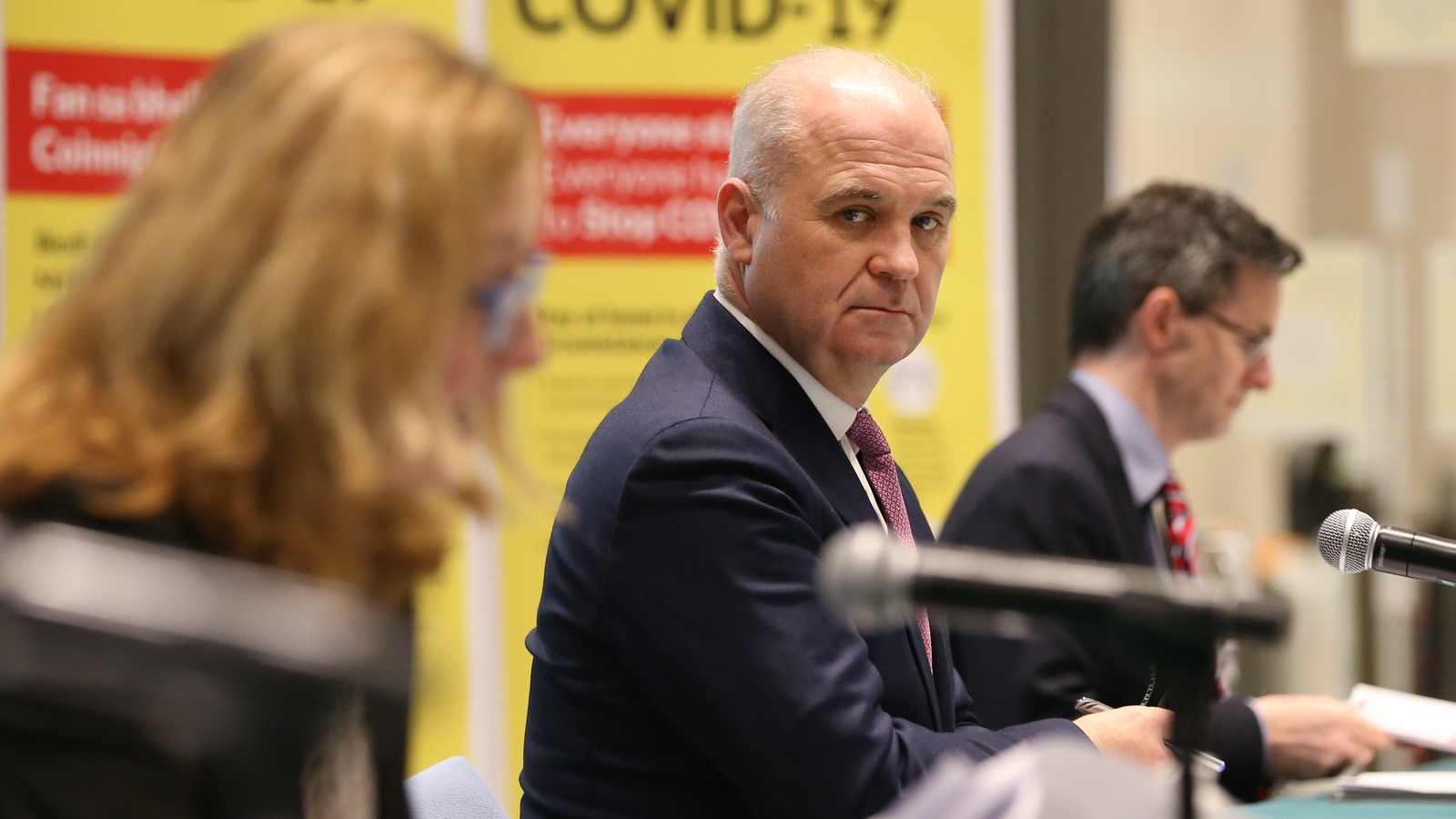 January deaths far above preceding months
The five-day moving average of #Covid19 cases in Ireland is 3,149. The median age of cases in the past 14 days is 39 and the mean age is 41. There have been 338 deaths in Ireland this month associated with Covid | https://t.co/0nmIyzdRVd pic.twitter.com/XOs6fB2d8l

— RTÉ News (@rtenews) January 18, 2021
Deputy Chief Medical Officer, Dr Ronan Glynn, said that in January so far, there have been 338 deaths associated with Covid-19.
Dr Glynn said this compares to 171 Covid deaths in December and 163 such deaths in November.
The five-day moving average of Covid-19 cases in Ireland is 3,149. The median age of cases in the past 14 days is 39, and the mean age is 41.
No zero-risk activity
Deputy CMO Dr @ronan_glynn says there are no zero-risk environments when it comes to #Covid19, and it is about balancing risks. He says it is clear that closure of schools should be a last resort | https://t.co/0nmIyzdRVd pic.twitter.com/uCWBjBrEHN

— RTÉ News (@rtenews) January 18, 2021
Ahead of the planned reopening of special schools and classes, the officials were asked about the a Special Needs Assistant who is concerned about the safety of returning to the school environment given the levels of Covid-19 in the community.
Dr Glynn said there is no zero-risk activity when community transmission is still so high.
Dr Glynn said there are people working in shops throughout the country and that is not a zero-risk environment., adding that there is no time when you leave your house that is a zero risk.
He said we have to balance risks and benefits.
The Deputy CMO suggested that someone with an underlying health condition should talk to their GP, and to their occupational health representative, and assess whether they can go back themselves.
Dr Holohan said these levels of community transmission that we're still experiencing is still very high.
Vaccine safety monitoring
Health Products Regulatory Authority Chief Executive Dr Lorraine Nolan gives an update on #Covid19 vaccine safety monitoring, noting that the safety profiles are positive and the benefits outweigh the known risks | https://t.co/0nmIyzdRVd pic.twitter.com/HwOKw2qjgw

— RTÉ News (@rtenews) January 18, 2021
The Chief Executive of the Health Products Regulatory Authority, Dr Lorraine Nolan, said up to 11 January, the HPRA received a total of 81 reports of suspected side effects associated with the Pfizer-BioNTech vaccine.
Dr Nolan said these side effects were mild or moderate in nature and include abdominal pain, nausea, fatigue, joint pain, and pains in the arms as well as some experiences of dizziness, headache, itching and rash.
She said these were consistent with those experienced in the clinical trials.
She said there have been global reports of anaphylaxis with Messenger RNA vaccines, adding that anaphylaxis is a known effect which can happen with vaccination.
She said this is very rare and vaccination centres are well prepared for such events.
She said anaphylaxis is typically seen with an incidence of 1 in about a million, but it seems the incidence is higher with these vaccines and is more in line with 1 in 100,000.
This is under close review, she said, and to date the HPRA has not received any confirmed report of anaphylaxis, but as vaccination numbers increase they can expect to receive reports of this nature.
Leftover vaccines
Asked about the issue of leftover #Covid19 vaccines and how they are distributed, @CMOIreland Dr Tony Holohan says there are guidelines in place and it is important those in leadership positions both follow and are seen to uphold the highest standards in vaccine prioritisation pic.twitter.com/xHoiRBCits

— RTÉ News (@rtenews) January 18, 2021
Asked about leftover vaccines being given to people who aren't on the priority list, Dr Tony Holohan said that the HSE has guidance in place as to how to deal with left over vaccine.
He said that he thinks it is right that there are arrangements in place to try to maximise the use of every single vial given how precious it is he knows that the minister has sought a report from one institution where a question was raised.
He said he wouldn't comment on the specifics of that but he said all of them and all people in leadership positions across the health system would recognise their particular responsibilities in not only following but being seen to uphold the highest standards in terms of supporting the distribrution of the vaccine to the highest priority groups.
He said that in terms of leftover doses is about reinforcing the need that those additional doses would also be targetted at the those who are in the highest priority groups.
He said that they would hope that all people in leadership positions would uphold those standards.
On the protocol for any 'excess' #Covid19 vaccine doses, planners are advised to have a list of 120 healthcare workers on standby who can be contacted at short notice if a dose is available. The protocol was issued on 12 January | https://t.co/0nmIyzdRVd pic.twitter.com/Z5IPuFJx6b

— RTÉ News (@rtenews) January 18, 2021
Face masks
On the use of face masks outdoors, @CMOIreland says right now NPHET doesn't see a benefit in mandating their use, but if people expect to run into others outdoors it could be a good measure – but the basic measure remains to stay away from crowded places, indoors or outdoors pic.twitter.com/wLG1Crudbr

— RTÉ News (@rtenews) January 18, 2021
Again, the idea of wearing face masks outdoors was raised. Dr Holohan said that if you think you'll be encountering people, such as while out on a walk, bring face masks.
People should be avoiding anywhere they think might be busy, he added.
Testing of close contacts will return
On #Covid19 close contact tracing and testing, @CMOIreland says it will be reintroduced as soon as possible, but at the moment transmission is so high that we are not in a containment phase. When cases fall, contact tracing will be more important again | https://t.co/0nmIyzdRVd pic.twitter.com/kKfZQaD87g

— RTÉ News (@rtenews) January 18, 2021
The CMO said that at the moment, cases are so high and community transmission so widespread, that the virus is effectively out of control, and contact tracing of confirmed cases is not practical.
He said that in some counties as many as one in ten people are either confirmed cases or close contacts of confirmed cases.
With the current public health advice, everyone is being asked to take similar measures to those recommended for close contacts when we are in a containment phase.
However, once case numbers are brought under control, contact tracing will be stepped up to try to prevent further spread of the virus.
Hospitals are high-risk
Hospital environments are high-risk environments for catching Covid-19.
Any form of infectious agent tends to spread more readily in hospital settings, said the Chief Medical Officer.
Dr Vida said there are very well-established pathways for patients with Covid and non-Covid healthcare needs. "But there is a commonality with shared resources," she said, and it is challenging to prevent outbreaks.
Surge capacity
The HSE's Dr Vida Hamilton, National Clinical Advisor and Group Lead, Acute Hospitals, said that they have 201 patients with Covid in their critical care units and two with suspected Covid-19.
She said this was the second week that they had been in surge.
There is a total of 312 patients in critical care, she said.
She said that the critical care nurse escalation plan is in place. It starts off with a buddy system where a non-critical care nurse works with a critical care one to care for a single patient.
As surge escalates, they have the one critical care nurse supervising two and three non-critical care nurses.