University Hospital Limerick is one of the country's busiest, dealing with 158 Covid-19 patients today. Staff there were also caring for 19 patients in intensive care.
Intensive care consultant at the hospital, Dr Catherine Motherway, said it is currently coping with the demands but it's a "day to day planning exercise" around staffing.
She said Covid patients are staying in ICU "considerably longer" than non-Covid patients, averaging at two weeks instead of five or six days.
Dr Motherway believes numbers coming to ICU will remain high for a "good number of weeks to come" and warned that the health system "needs the tap to be turned off" in the community.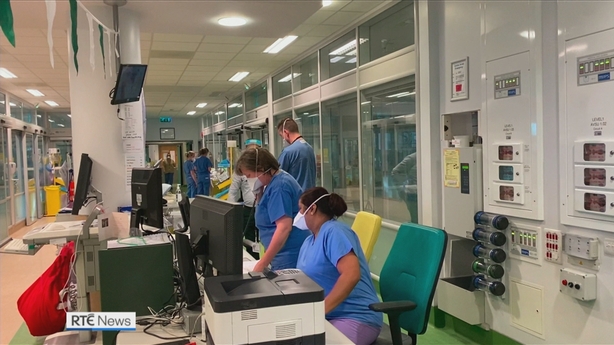 Earlier today, the head of the HSE Paul Reid said that ICUs are heading towards an "extremely perilous" situation, as demand on the service increases.
The ceiling of our nationwide ICU surge capacity is 350 beds, not far off the 344 critical care beds that were operational today.
Dr Motherway agrees we are "approaching the limits of what we would describe as our capacity to surge … above 350, we would not be delivering the standard of care that we would like.
"It's a significant challenge for us to ensure safe standards of care; we'd still be offering care but it mightn't be quite to the standard we would like."
That is because "we would be very stretched in terms of staffing and the intensity of staffing is what makes intensive care what it actually is".
Dr Motherway said if we reached this point, then care would have to be provided in a different way.
"We will do our level best to do the best we can but the care will be not quite to the standard [we would like]."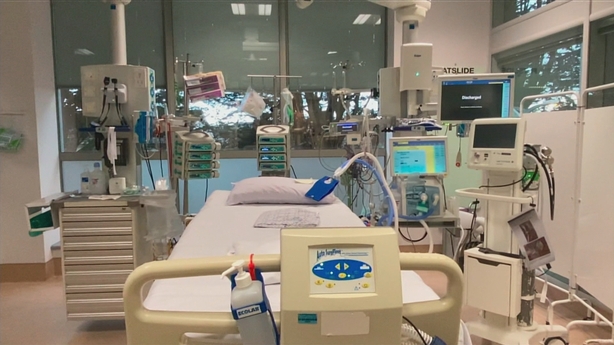 She said ICUs will be relying on staff that are not experienced in this area, and while they have received training to be redeployed in the surge, "it is a very daunting job to be taking care of a critically ill patient as a nurse if you haven't been used to doing it.
"We are nearing the limit of what we can safely surge to and beyond that, it will be the best we can do with the resources we have," she added.