The Minister for Health has indicated that up to four million people could be vaccinated against Covid-19 by the end of September.
In a letter to TDs, Stephen Donnelly said the current plan is to to vaccinate 700,000 people by the end of March.
The Government is then expected to receive approximately 3.7 million doses from April to the end of June and a further 3.8 million between July and the end of September.
This would allow up to four million people get the two-dose vaccine by the end of September.
However, the minister warned that projections and timelines are constantly evolving.
"We plan to use these vaccines as soon after delivery as possible," he told TDs.
The Government is aiming to have 70,000 residents and staff in 589 long-term care facilities vaccinated by 24 January.
Minister Donnelly said that after the initial phase, there will be a considerable scale-up in the roll out of vaccinations.
"This will be achieved through partnerships with GPs, Pharmacists and ultimately delivered through Mass Vaccination Centres (MVCs).
"Engagement with GPs and pharmacist representatives is advanced and we expect to conclude terms for their participation in the vaccination programme in the coming days," he said.
Meanwhile, the Taoiseach has told a Fianna Fáil parliamentary party meeting that the world would look very different in June when the vaccine roll out was at an advanced stage.
Micheál Martin told party colleagues this would allow room for manoeuvre around decision making at that point.
Earlier, Mr Donnelly told the Dáil that the plans to vaccinate 700,000 people by the end of March would cover the top three groups on the prioritisation list – those in long-term residential care (staff and residents), frontline healthcare workers, and those aged over 70.
He also said that a variant of the virus, which was first reported in the UK and is more contagious, now accounts for more than half of all new cases.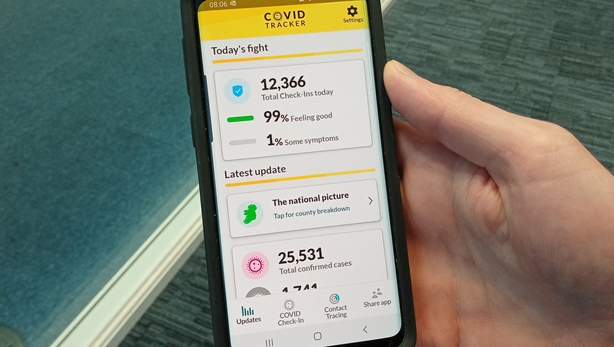 The latest vaccination figures will be available on the Covid Data Hub from this weekend and regular updates will follow.
Work is also under way to add vaccine numbers to the Covid Tracker App as soon as possible.
Fianna Fáil TD Marc MacSharry described preparation and roll out of the vaccine as an "abject disaster and disgrace".
He said the European Union failed miserably in getting appropriate supply and he asked if Ireland could have done "side-deals" to secure additional vaccines.
"The reality is we didn't prepare when we had time to prepare", he told the Dáil.
The Government TD said that the vaccine was not "sprung upon as a surprise" and asked that Minister Donnelly "up the game", set some goals and start doing "side-deals".
Sinn Féin health spokesperson David Cullinane said details around the vaccine roll out is "sketchy".
He said Opposition health spokespeople were briefed last week that there was and continued to be a lack of detail around mass vaccination centres and staffing levels.
Deputy Cullinane warned Mr Donnelly that a lack of information would be" filled by misinformation".
Social Democrats co-leader Róisín Shortall criticised the Government for blaming a variant of the virus first detected in the UK for a rise in cases here prior to Christmas.
Ms Shortall said this was simply not the case and cited reports from the National Public Health Emergency Team, the Chief Medical Officer and the World Health Organization.
She said the impact of the new variant is only evident in daily figures over recent days.
Deputy Shortall accused the minister and his colleagues of "talking up the vaccine" before Christmas which, coupled with talk of a meaningful Christmas, led to a false sense of security and we are all paying an "exceptionally high price for that".
The Dublin North-West TD suggested that rather than announce restrictions for a number of weeks, the Government should instead announce a target of daily case numbers and, once a safe number is reached, it could then consider easing restrictions.
She also criticised the vaccine roll out, pointing out that there is no "delivery forecast", despite being told that the EU received one from Pfizer. Ms Shortall asked that the forecast be shared.
She also said there was a lack of detail around IT systems and the staff who would administer the vaccine when mass roll out begins.
---
---
Expert warns of risk of infection even after vaccine
An immunologist at Trinity College Dublin has warned that there is still a risk of infection even after receiving a vaccination.
Speaking on RTÉ's Today with Claire Byrne, Professor Luke O'Neill said that while it might be a low level of infection, people could still be transmitting the virus.
"The good news is you won't get sick if you're vaccinated," he said.
"But there's still a risk that you might still be infectious, so don't think that you can go back to behaving like you used to. You must still keep to all the guidelines."
He said there is a "really good chance" that if someone has had the virus, the risk of reinfection is low.
Those who have had the virus already and are in a low-risk group "might step back slightly" until more vaccinations become available, he said.
"It's very sensible suggestion if supply is the issue, but we hope by then supply shouldn't be the issue and we can just vaccinate everybody as we go along," he said.
"But there is a good scientific basis for saying if you've been infected and you're in a low risk group, you might step back slightly for a few weeks until the vaccine becomes available."
Prof O'Neill said the "worst case scenario" would be if the death rate climbs above yesterday's number of 46.
This is the "low point" of the pandemic, he said, and the next several days are critical.
"We will turn this ship around," he said.
"The fact that we're all staying home means this has to stop spreading. It's the next seven to ten to 14-day period that will reveal this policy that we're all following. We've just got to keep doing what we're doing."
Additional reporting Tommy Meskill