The British Prime Minster has said his government will suspend part of the Northern Ireland Protocol if the situation of supplies to supermarkets in Northern Ireland becomes critical.
However, Boris Johnson told the House of Commons that no trucks have been turned away from Northern Ireland ports and any shortages in retail chains are what he called "teething troubles" from the new customs regime.
He was responding to DUP leader at Westminster, Jeffrey Donaldson, who asked Mr Johnson if he would use Article 16 of the Northern Ireland Protocol to deal with difficulties in the flow of goods from Britain to Northern Ireland.
The article allows either the UK or the European Union to temporarily suspend part of the protocols' operation to address serious economic, societal or environmental problems.
Mr Donaldson said that consumers in Northern Ireland were facing empty supermarket shelves and could not get parcels delivered from Britain.
Small businesses, he said, were having difficulties importing spare parts and raw materials, and users of British made steel could face tariffs in certain circumstances.
Mr Johnson said that goods were flowing effectively and in normal volumes from Britain to Northern Ireland, and any disruptions were what he called "teething troubles".
He added that if there are problems that are disproportionate, the British government would have no hesitation in invoking Article 16.
Meanwhile, Northern Ireland's First Minister has vowed to find a solution to the trade difficulties.
Arlene Foster acknowledged a significant challenge around how hauliers transport mixed loads from the rest of the UK, stopping at multiple locations to pick up goods.
Mrs Foster – who spoke to UK Cabinet Office Minister Michael Gove today – said: "We need to see a solution".
She told the Stormont scrutiny committee: "We are absolutely committed to finding solutions to all of these difficulties and that is where our focus is."
We need your consent to load this rte-player contentWe use rte-player to manage extra content that can set cookies on your device and collect data about your activity. Please review their details and accept them to load the content.Manage Preferences
---
Read more:
Are NI supermarket issues really just Brexit 'teething troubles'?
Latest Brexit stories
---
The British government has set up a special team to work with supermarkets trading in Northern Ireland after problems with supplies left many shelves empty.
Smaller retailers say they fear months of disruption because of confusion about arrangements for importing food products from Britain following Brexit.
As Northern Ireland has remained part of the EU single market, while the rest of the UK has left, food products from Britain must be certified.
Despite a three month grace period, there's been some significant disruption, with shortages of some products.
British Prime Minister Boris Johnson this afternoon described the disruption as "teething problems" and his government insists that supermarket supply chains are improving.
That claim sparked an angry response from the DUP's MP for North Antrim, Ian Paisley.
"It has ruined trade in Northern Ireland and it's an insult to our intelligence to say it's a teething problem," he told the House of Commons.
Earlier, his party colleague Sir Jeffrey Donaldson MP said a number of major businesses in Northern Ireland yesterday that were "having ongoing difficulties in bringing goods in from Great Britain."
He warned that action is needed before businesses come to "a cliff edge" when the grace period ceases at the end of March.
"We need immediate intervention on this matter," he told the House of Commons.
"It is impacting on the economy of Northern Ireland."
While Northern Ireland's Secretary of State Brandon Lewis has insisted Brexit did not result in an Irish sea customs border, many business owners and politicians strongly disagree.
Major supermarkets in the UK yesterday warned the British government that "urgent intervention" was required to prevent significant disruption to food supplies in the coming months.
A retail industry representative told the House of Commons this afternoon that supply problems for supermarkets are now being overcome.
But Andrew Opie, Director the British Retail Consortium, warned that similar problems could re-emerge if further certification requirements and paperwork are introduced when the current grace period ends.
With the focus on supermarkets and large businesses, many smaller retailers in Northern Ireland fear being left behind.
They say suppliers in Britain are reluctant to take orders because of concerns about customs declarations.
That means stocks of some of their most popular products could soon run out.
Kieran Sloan owns one of Belfast's most popular food stores, Sawers.
He said some of his suppliers have said they won't take orders for some of his most popular products.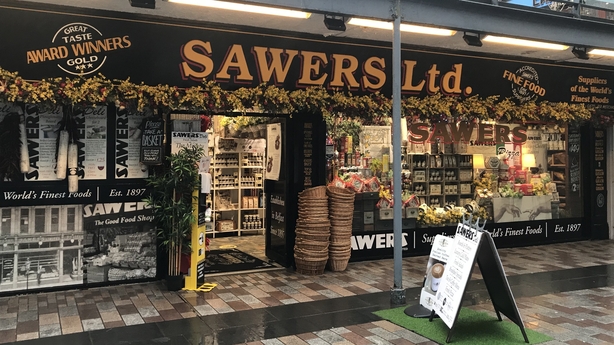 "We're talking about things like upmarket biscuits, jams and chutneys," he said.
"Cheese is a huge problem. We were normally carry about 200 cheeses and about 50 to 60 of them are English cheeses and that's a big part of our business, but we're down to just 12 at the moment.
"Apart of the English cheeses, there's also Scottish and Welsh cheeses. They're our best sellers but we just can't get our hands on supplies at the moment.
"I think smaller retailers have been forgotten about. We are being left to fight our own corner and nobody is telling us anything. It's having a huge impact."
Additional reporting Vincent Kearney