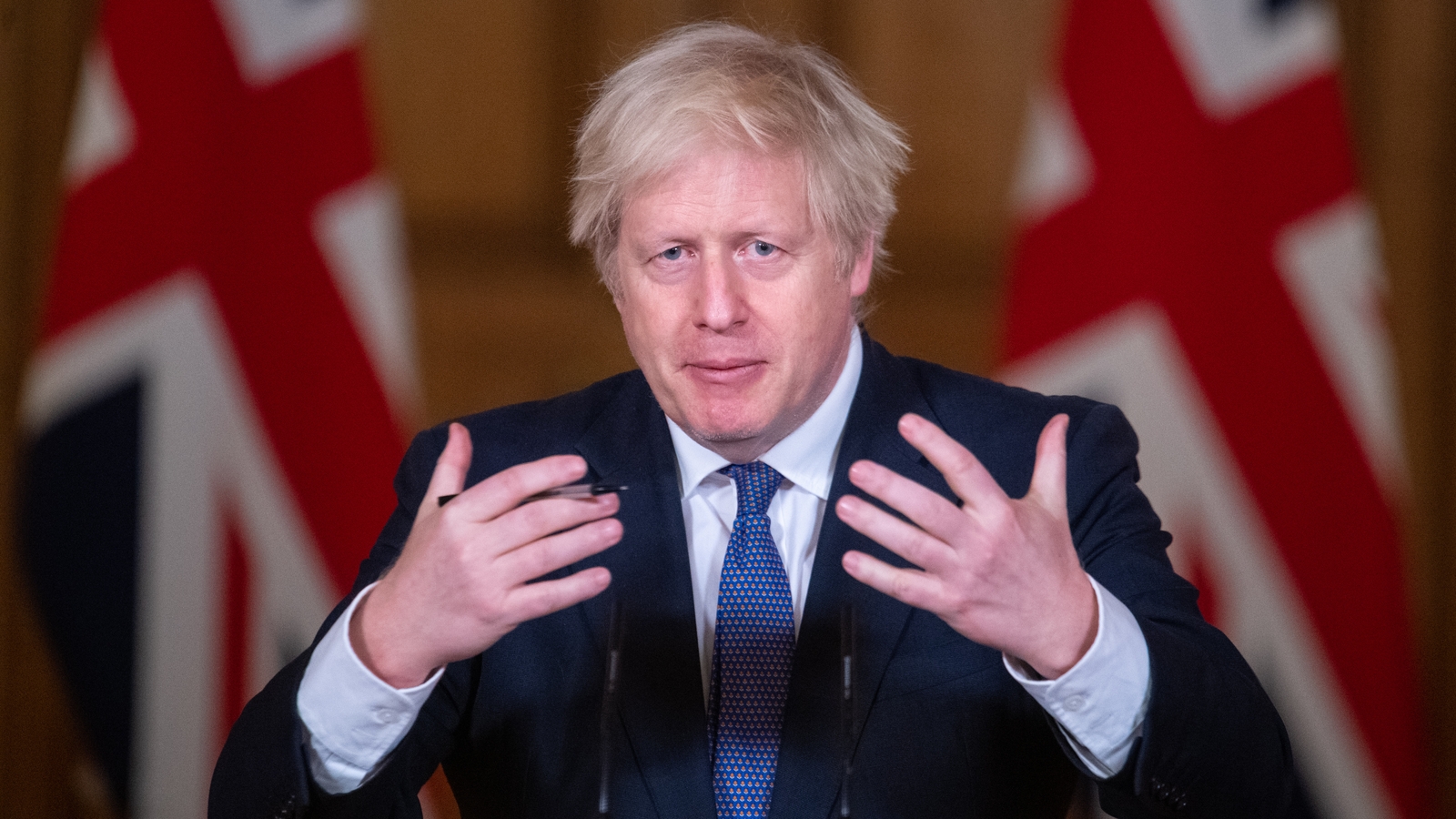 British Prime Minister Boris Johnson has ordered the closure of all travel corridors from Monday to protect the UK against new coronavirus strains, ending the quarantine exemption for arrivals from selected nations.
A spokesperson for the British Embassy in Dublin told RTÉ that arrivals to England, Scotland and Wales from the Republic of Ireland remain exempt from quarantine but need to adhere to local restrictions.
People arriving in the UK from a destination with a travel corridor are currently exempt from the 10-day quarantine requirement.
The new policy means arrivals from every destination will need to self-isolate for 10 days, or receive a negative result from a coronavirus test taken at least five days after they enter the UK.
Mr Johnson told a Downing Street press conference: "It's precisely because we have the hope of that vaccine and the risk of new strains coming from overseas that we must take additional steps now to stop those strains from entering the country.
"Yesterday we announced that we're banning flights from South America and Portugal and to protect us against the risk from as-yet-unidentified strains we will also temporarily close all travel corridors from 4am on Monday.
"Following conversations with the devolved administrations we will act together so this applies across the whole of the UK."
Labour leader Keir Starmer welcomed the decision to suspend travel corridors but criticised the Conservative government for being slow to act.
"I think many people will say 'Why on earth didn't this happen before?' Many countries have taken this step before we did. Right step, but slow again," he said.
Boris Johnson also revealed at a press briefing that almost 40% of care home residents in England have received a coronavirus vaccine.
From 16 Jan: All passengers arriving into Ireland (except those arriving from Northern Ireland) are required to provide evidence of a negative PCR Covid-19 test, carried out no more than 72 hrs prior to arrival. See our latest Travel Advice ➡️ https://t.co/xAVvFj50Ik

— British Embassy (@BritEmbDublin) January 15, 2021
He said 45% of the over-80s and almost 40% of care home residents have received at least one dose.
Chief scientific adviser for England Patrick Vallance said he expects vaccines will reduce transmission but that people "shouldn't go mad" as jabs are rolled out because a risk will remain.
He said: "It would be very surprising for vaccines that are this effective not to have a decent effect on transmission.
"I don't think it will be complete suppression of transmission, I think there will still be transmission.
"It is important to remember. It means just because you've been vaccinated doesn't mean you can't catch this and pass it on, it means you're protected against severe disease.
"And therefore we shouldn't go mad when people start getting vaccinated and assume that everything is okay and you can't pass it on, you can't catch it or give it to somebody else. That still will be the case.
"So we've got to be cautious as we go through this but I expect the vaccines to have an effect on transmission reduction."
Asked whether he thought the Brazilian variant was now in the UK, Mr Vallance said: "In terms of the Brazilian variant there are only two major ones from Brazil, one of them which is particularly important contains two changes: one at 484 and one at 501, so two positions in the genetic sequence.
"That one has not yet been detected in the UK as far as I'm aware, but we've got to keep monitoring carefully and it could of course come from any place around the world."
He added: "These are changes I should expect to start seeing in lots of places, these are changes which this virus quite likes and I think we'll see them emerging in different places."
A further 1,280 people died with Covid-19 in the UK in the past 24 hours while there were another 55,761 lab-confirmed cases of coronavirus reported.