Two healthcare workers who faced deportation following the refusal of their 'leave to remain' applications last year, have had that decision overturned and received leave to remain in the State.
Last November, RTÉ News highlighted the case of the two healthcare workers who have worked in nursing homes throughout the pandemic and continue to do so.
The issue was raised in the Dáil on 3 November, 2020 by People Before Profit TD Bríd Smith and Taoiseach Micheál Martin committed to raising the matter with the Minister for Justice Helen McEntee.
The matter was again raised in the Dáil on November 18 by Social Democrats TD Gary Gannon, where the Taoiseach again committed to following up on the cases of these two healthcare workers.
Both the healthcare workers have confirmed to RTÉ News that they received written confirmation of the decision to grant them 'leave to remain' late last week.
After months of uncertainty, one of the workers told RTÉ News that she was "so relieved" to get the news.
She spent two hours "reading and re-reading" the document when it arrived last Thursday, afraid that she was reading it wrong.
Her employer had previously spoken to RTÉ about the worker's contribution during the pandemic, describing how "she gowned up, she was on the frontline, she went into rooms where there were people with Covid positive results".
---
---
He added: "She barrier nursed like the rest of us here."
The woman was informed that her work "in the healthcare industry" as well as educational achievements and volunteer work in Ireland were taken into account in the making of the decision to now grant her 'leave to remain'.
However, information and references relating to these were submitted as part of her original application which was refused last year.
A spokesperson for the Department of Justice told RTÉ News last November that "work in a healthcare setting" is and should be taken into account when assessing applications for 'leave to remain' in this country.
In response to a query from RTÉ as to whether the situation in relation to healthcare workers applying for 'leave to remain' has been formalised or changed since the matter was raised in the Dáil two months ago, a statement from the Department of Justice did not address the issue directly.
It said: "The Department is unable to comment on individual international protection cases, however humanitarian factors, employment records and other factors are considered by the Minister as part of the permission to remain process.
"Each case is examined in detail on its individual merits, taking all factors into account."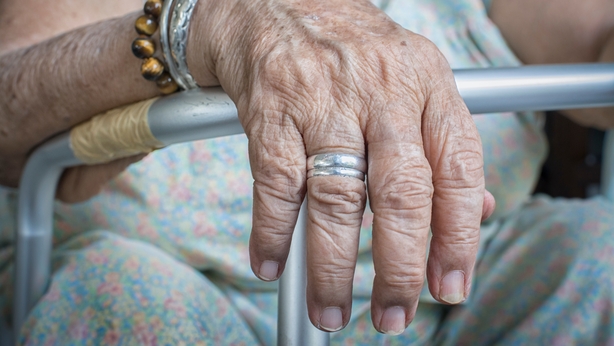 The Department statement went on to say that "on 3 November 2020, the Minister asked her officials to review, for the duration of Level 5 restrictions, the issuing of letters informing a person of their negative international protection decision. No negative decisions have been issued by the Minister in the period since."
People Before Profit TD Bríd Smith said that she was "absolutely delighted" to hear that the two careworkers in question have been granted leave to remain.
"These women, like so many more migrants, have been contributing tremendously to our healthcare service," she said.
Ms Smith described it as "unconscionable that the Irish Government would not seek to keep all our health workers, doctors, nurses in the state during this pandemic and really value their work and commitment to public health when they are most needed".
She said that she continued to support "migrant health workers in their campaign to fast track their applications for citizenship".
CEO of the Irish Refugee Council, Nick Henderson, said that he welcomed the decision: "We hope, as we have recommended throughout the pandemic, that the Department of Justice proactively identifies all people who have worked in healthcare settings during and offer them permission to remain."
In a statement, the Movement of Asylum Seekers in Ireland said the inital decision to refuse 'leave to remain' to these healthcare workers who had "dedicated their lives to protecting vulnerable Irish nationals in nursing homes" had "caused a lot of "distress", was "simply cruel" and "should never have happened."
MASI called on the Minister for Justice to use her discretionary power to grant long-term residency to non-EU nationals working in healthcare, but also to all non-EU nationals in the State during the pandemic.
It also wants Ms McEntee "to exercise her discretionary power to review and revoke all pending deportation orders, especially those served during the pandemic".