People smuggling takes place by day and by night – and happens hidden in plain sight. Although the crime is international in nature, Irish criminals were centrally involved in the plot that saw 39 Vietnamese people killed in 2019.
The investigation by British police into the discovery of the bodies in a container in Essex led to a massive trawl of CCTV footage.
Imagery was obtained both in England, where authorities were alerted to the container; and in Belgium and France, where the smugglers first collected and transported the 29 men, eight women and two 15-year-old boys.
Each of the 39 had paid £13,000 to the smugglers, who had promised they could get the migrants to England.
Some of the migrants who took the fateful journey in October 2019 had told their families in Vietnam that they were being provided with a "VIP" route to the UK.
In reality, they were locked into a refrigeration unit in a quiet street in the French town of Bierne.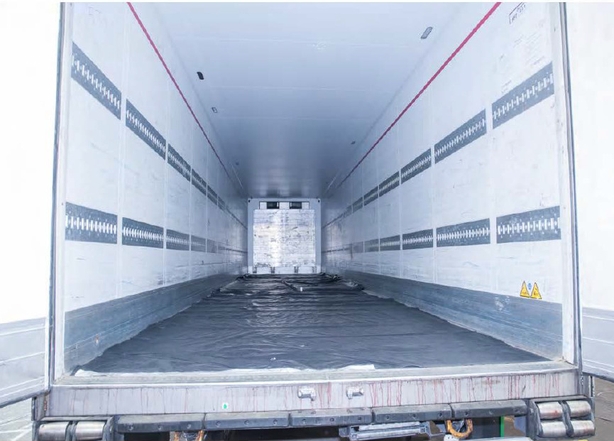 When Essex Police studied CCTV footage from a quiet spot in Bierne, they saw a fleet of taxis had arrived around 9am on the morning of 22 October 2019.
A short time later, a truck driven by Eamonn Harrison pulled up. Mr Harrison worked for Co Monaghan haulier Ronan Hughes, who was based at Tyholland, near the Monaghan-Armagh border.
Mr Hughes had a previous conviction for smuggling cigarettes, but the conviction had not affected his ability to build up a large haulage business.
Eamonn Harrison had smuggled people before. On that Tuesday morning, the footage shows him parking his truck and walking away for almost ten minutes.
It all looks so innocuous, a normal everyday moment, except what Mr Harrison is doing is leaving his vehicle by arrangement while 39 migrants are put in the back of the refrigerated unit by people smugglers.
They are locked inside. Mr Harrison returns to his vehicle and begins his journey across the border to Zeebrugge, a coastal Belgian village.
He stops for refreshments en route, with the CCTV footage from a petrol station showing him wearing a distinctive fleece from his hometown of Mayobridge in Co Down.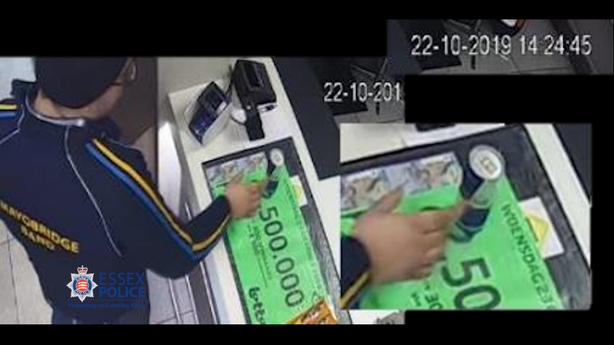 The footage also shows the moment that Mr Harrison arrives at Zeebrugge, unhitches the container, and drives off – his people-smuggling work done for the day.
According to the official paperwork, the unit was being used to transport consignments of biscuits. In reality, there were 39 people trapped inside when the temperatures inside the container soared to unbearable levels.
An analysis of the temperature gauge in the subsequent investigation showed that the temperature in the unit was 21C when the container arrived at the port.
It was 27C by the time the unit was placed on the ferry, and it was 36C by 7pm when some of the 39 people trapped in the dark container began to make frantic emergency phone calls.
But because they were at sea, and trapped in a container, there was no signal. Some of those in the container recorded messages on their phones saying goodbye to their families.
Sometime between 10pm and 10:30pm, the temperature inside the container reached a toxic threshold.
Retired garda and crime scene specialist Gerry Kealy investigated a similar tragedy that occurred in Ireland in December 2001. Eight people were discovered dead in a container that had travelled from Zeebrugge to Ireland.
Among the dead were four children. They were among 13 people who had been placed in a container by people smugglers who mistakenly believed the container was going to the UK.
The 13 people were trapped in the container for 101 hours. Incredibly, five were still alive when the container was opened in Co Wexford.
Mr Kealy told RTÉ's Prime Time that sealed containers are so dangerous when people are placed inside them.
"In normal air, there is 21% oxygen," he said. "Now, we breathe in 21% oxygen. We exhale 15.6 % carbon dioxide."
As a result, sealed containers quickly fill up with the gas, which is poisonous to humans.
"As it builds – it is heavier than air – the heavier that people breathe, the more they panic, the more oxygen they use," Mr Kealy said.
"Pretty quickly, the carbon dioxide levels will build up inside the container, and people will eventually asphyxiate."
While Eamonn Harrison was the driver on the "continent" end of the journey, another Irish trucker was the driver on the English end.
Maurice Robinson knew he was smuggling people, and he knew he was collecting a container full of migrants from Purfleet, a town just east of London.
At some stage, as he left the port in the early hours of 23 October 2019, Robinson got a Snapchat message from Ronan Hughes, his boss in the haulage business – and his boss in the people-smuggling ring.
"Give them air quickly, don't let them out," Mr Hughes tells Robinson.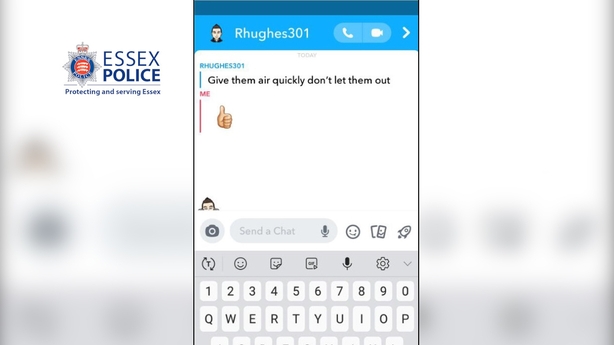 Mr Robinson pulls into a quiet street near the port and opens the container. Once again, CCTV footage shows the moment that Mr Robinson discovers that everyone inside is dead.
He just stands at the back of the truck for 90 seconds, frozen to the spot, as vapour rises from the container.
Investigators will eventually discover that the temperature inside the container at that time was 38.5C, and had been for around three hours. All those inside had been dead for some time.
But that did not stop Mr Robinson telling lies on the 999 call that alerted authorities to the horrific scene.
Mr Robinson did not ring the emergency services immediately. He first rang other members of the gang, disposed of a phone and drove off before coming back to the same spot.
And then, on the emergency call, he claimed he had stopped his vehicle and opened it because he "heard a noise in the back".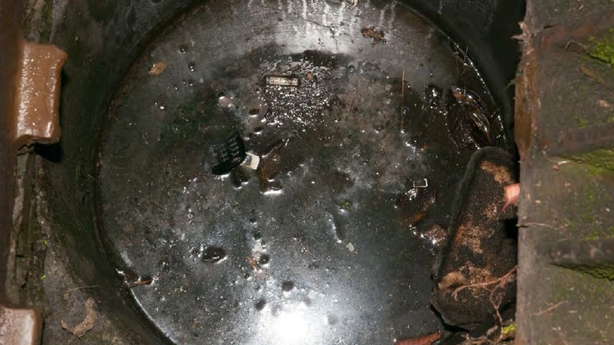 The subsequent investigation, led by Essex Police, uncovered an international network of criminals who had been smuggling people into the UK for years.
Among the group were several Irishmen. Of the eight people convicted at the Old Bailey in London just before Christmas, four were Irish. All are due for sentencing tomorrow.
Two of those due to be sentenced, Ronan Hughes and Eamonn Harrison, had been arrested in Ireland and had fought extradition requests from the UK. But they were eventually sent to England to face trial.
Mr Hughes admitted 39 counts of manslaughter, as did Maurice Robinson. Eamonn Harrison denied the charges, but was convicted by a jury.
Assistant Garda Commissioner John O'Driscoll said that gardaí will continue to work with the National Crime Agency in Britain and other police forces to tackle all types of smuggling.
"At a very early stage, the international dimension to this investigation was obvious. We seized vehicles in Ireland. We arrested people who were suspects," the Assistant Commissioner told Prime Time.
"Ultimately, we provided evidence that was of crucial value to the investigation team in Essex and helped achieve the convictions that took place," he said.
The Criminal Assets Bureau is continuing to investigate the sources of income of a number of people based around the border area.
A BMW worth €108,000, owned by Ronan Hughes, was seized in November 2019 and investigations into his finances continue.
A recent trial at the Old Bailey heard how the people-smuggling gang had been operating for at least 18 months, with each person smuggled paying up to £13,000.
Like Gerry Kealy, John O'Driscoll also worked on the investigation into the discovery of eight bodies in a container in Wexford in 2001.
In that tragedy, there was no Irish criminal involvement.
But Irish criminals were centrally involved in the people smuggling that led to 39 desperate people – people seeking a better life – paying large sums of cash to criminals and being locked into a container from which there was no escape.
"You've got to remember that these containers are airtight, more or less. They are well sealed. There's no air can get in or out," Mr Kealy said.
"These smugglers, they play Russian Roulette with people's lives."
Watch reporter Barry Cummins and producer Sallyanne Godson's report on people smuggling tonight on Prime Time at 9:35pm on RTÉ One and RTÉ Player.