The son of a Co Mayo man, who died after contracting Covid-19, has urged people to adhere to the public health measures to keep their families safe and to stop the virus spreading.
Seán Conroy was speaking after the death of his father Paddy Conroy last week.
The 81-year-old former secondary school principal from Belmullet died on Friday at Mayo University Hospital in Castlebar and his funeral took place on Sunday.
He is among almost 500 people with Covid-19 who have died in Ireland since the start of the year.
Seán Conroy told RTÉ News that his father was admitted to hospital this day two weeks ago, suffering from respiratory problems.
He said himself and his wife Fiona had tested positive for the coronavirus and were isolating at the time.
"We didn't get time to say goodbye to him when he was taken by ambulance. He was pretty ok for the first week but around day nine or ten, the decline began. He developed a clot on his lung and then pneumonia".
Seán said he was called by the hospital one morning last week and was told that his father "hadn't a good night" and that the prognosis wasn't good.
As he was self-isolating, he said he contacted his brother Padraic, who went to the hospital and "got the last 15 or 16 hours with him, which was wonderful."
He said his brother described people of all ages in Mayo University Hospital with the virus and that the doctors, nurses and other staff in the hospital were fantastic.
"It was frightening and very scary," he added.
To add to the heartbreak for the family, Paddy Conroy's wife Mary was unable to attend the funeral mass as she also had the virus.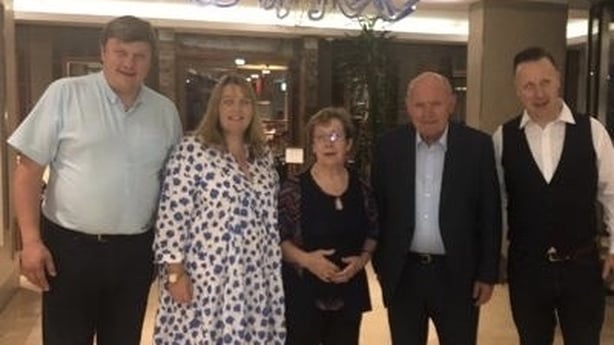 Seán Conroy, who is a funeral director at McDonnell's Funeral Directors owned by the family, said "unfortunately mum contracted Covid at the same time as my father did but her underlying problems weren't as great. When my father was admitted to hospital, she had to isolate to her room for the following two weeks."
On the day of the funeral last Sunday, he said it was "a very difficult day".
He said "after we left our funeral home, my mother had to say goodbye and return home" before the cortège travelled to the local church.
"She wasn't there for her husband's funeral and similarly my sister was in London and couldn't return home for the funeral either. It was just my brother and I. There were exactly 10 of us in the church that day to celebrate my father's funeral mass."
---
---
However, he said the mass was broadcast on a video link and he said "it gives us great comfort to think that my mother was at home in her sitting room and my sister in her sitting room in London and all our relatives and friends around the country and around the world could watch the funeral live."
Mr Conroy said "people stood in a very well behaved socially distanced way around the streets of the town and on the roadsides, flying tricolours and Mayo flags as we passed on our way to the cemetery".
"Even though we didn't get our traditional celebration, we were very moved by the kindness and solidarity of the people during our crisis," he added.
Seán Conroy said the family never imagined being in this situation today.
"We took all the precautions necessary right through and we were extremely careful."
He said the funeral home was sanitised after every funeral.
"We were just so careful and it hit us, so everyone is open to contracting Covid. No one is invincible."
Recently, the Belmullet area had the highest 14-day incidence rates of the virus in Ireland.
Seán Conroy said "we have suffered terribly in Belmullet over the last three or four weeks".
He said one local GP has described the current situation as more similar to a plague than a pandemic.
"If you stand on the streets of Belmullet any day at the moment, there are anything up to 10 or 12 ambulances leaving for Castlebar. It's very serious but we are not blaming anybody. This virus has no mercy for anybody."
He said "at this very moment, there are friends of mine in hospital who are struggling with it. In the last week, we have lost five or six people in this area through Covid".
In an appeal to stick with the public health guidelines, Seán Conroy urged people to "batten down the hatches for another few weeks."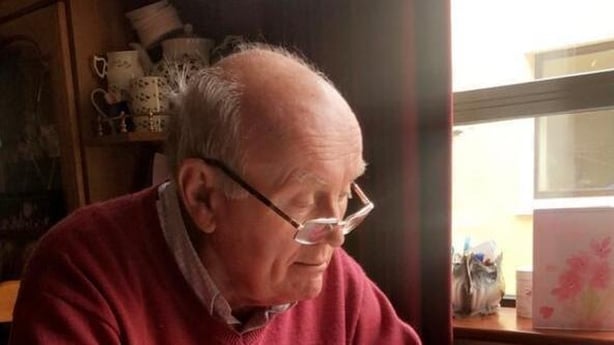 "I would plead to people to stay in as much as possible and to stay at home and mind their families. It's not for that long. We need to unite and show our solidarity and get through this."
He said people don't want this virus to visit their home.
"Our family has been impacted and we have seen the cutting edge of this virus here. It's unbelievably frightening."
He said "hopefully by summer time, people might be able to start enjoying life again. It would be great to see Ireland and the world return to great times again".
"We just really, really want people to be determined to suppress it and sometime in the future, we will see light again."