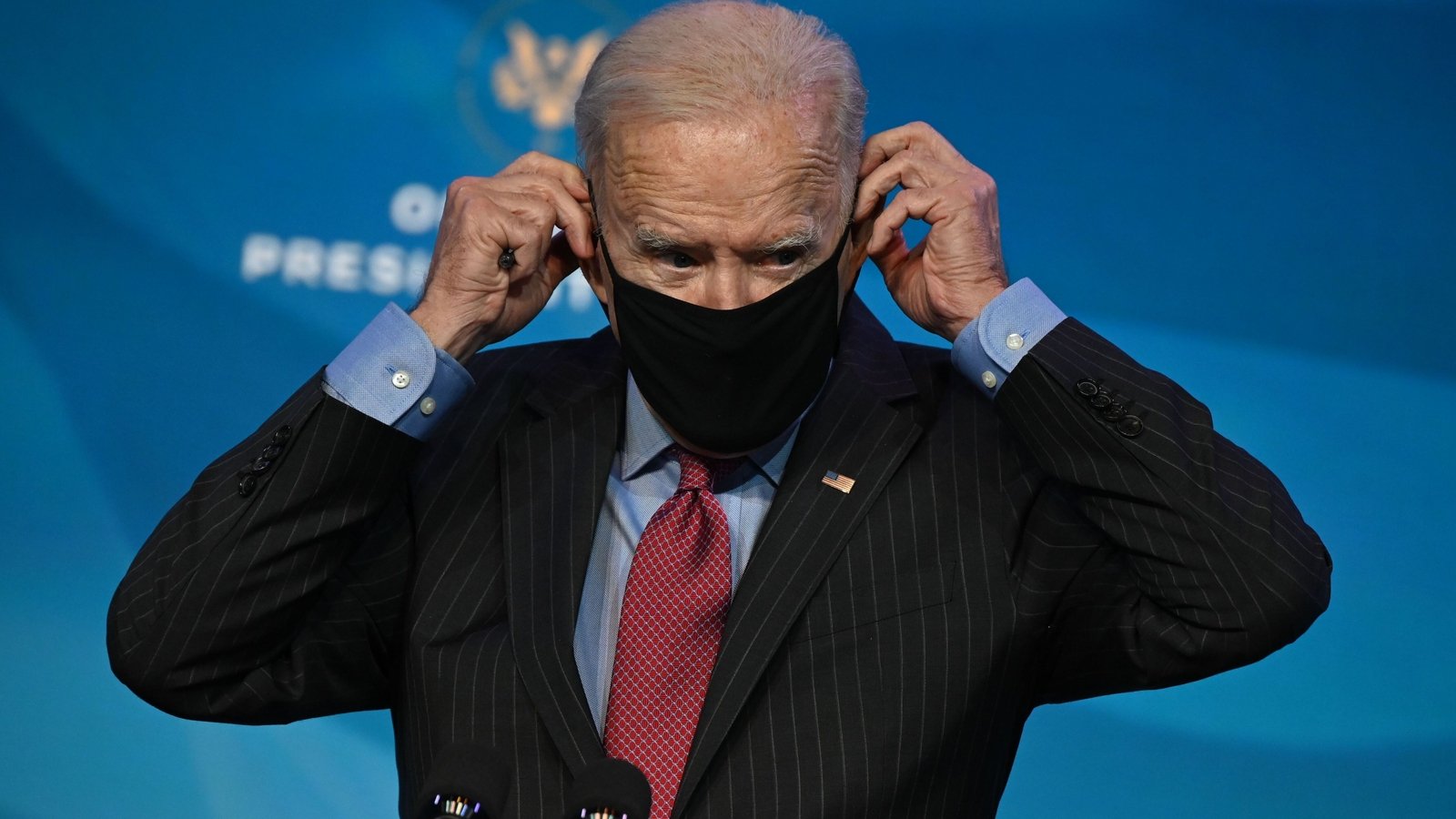 A small number of protests have been permitted for next week's inauguration of President-elect Joe Biden in Washington DC, as officials implement unprecedented security measures amid warnings of possible attacks by groups involved in the 6 January siege of the Capitol.
The US Department of Defense has authorised 15,000 National Guard troops to be deployed for Mr Biden's inauguration, amid fears of more violence by supporters of President Donald Trump.
Only four significant First Amendment protest applications for the National Mall and nearby parklands were made to the National Park Service for next week, according to the agency.
At least two of these have been canceled, organisers of the events told Reuters.
Some applications for planned events were submitted more than a year ago, before coronavirus pandemic lockdowns, social distancing and mask requirements began.
In 2017, the NPS granted permits to 27 protest groups, some of which sought to disrupt President Trump's inauguration. The NPS requires a permit for demonstrations of more than 25 people on most parkland locations within its jurisdiction.
This year's permits include two made a year ago, in anticipation of a second Trump inauguration. Representatives for both DC Action Lab and the Answer Coalition said that they were no longer planning to hold events, given Joe Biden's victory.
No permits were being granted for marches next week on district streets where the local police have jurisdiction, a DC Metropolitan Police spokeswoman said.
Some streets, like Constitution Avenue, which Trump supporters marched on to the Capitol on 6 January, are under the jurisdiction of the NPS. A spokesman for the agency said a decision had yet to be made on whether to close the National Mall, which runs from the Capitol to the Lincoln Memorial.
During past inaugurations, hundreds of thousands of people have watched the president take the oath of office on big screen televisions positioned on the Mall.
Masks are required outdoors when a person is expected to come within six feet of others.
A number of airlines – including Delta, Alaska, American and United – have announced they will not allow travellers flying to airports in the Washington area to check firearms on flights before the inauguration.
Delta's Chief Executive, Ed Bastian, told CNBC that his airline has placed passengers on a no-fly list for their involvement in disruptive incidents.
National railroad service Amtrak has also said it will be implementing heightened security measures, including the deployment of additional police officers on trains.
---
Read more:
What next now that Donald Trump has been impeached again?
Impeachment vote: Armed troops outside, political battle inside
US Justice Dept expects sedition, conspiracy cases in Capitol attack
---
Far-right and white supremacist extremists are actively recruiting in the US military and have gained more support over the past year, the US Defense Department has said.
One week after hard-liners who support President Trump stormed the US Congress, the Pentagon said it will launch an investigation into the extent of extremism in US military ranks.
A senior defense official, who declined to be named, told reporters that there was an increase in far-right activity among the military over the past year, though he noted that it paralleled similar growth in society at large.
"We know that some groups actively attempt to recruit our personnel into their cause, or actually encourage their members to join the military for the purpose of acquiring skills and experience our military force," the official told reporters.
"We recognise that those skills are prized by some of these groups, not only for the capability it offers them, but it also brings legitimacy in their mind to their cause."
The military has been aware of the problem for some time, but it was underscored by the involvement of serving and retired force members, as well as police officers, among pro-Trump protesters who forced their way into the Capitol building last week.
One military captain, a psychological operations specialist in North Carolina, organised a group of 100 people to join the protests.
She has since resigned from the military.
"We in the Department of Defense are doing everything we can to eliminate extremism," said Garry Reid, who oversees intelligence and law enforcement in the office of the secretary of defense.
"DoD policy expressly prohibits military personnel from actively advocating supremacist, extremist or criminal gang doctrine ideology or causes," Mr Reid said.
The Pentagon's independent inspector general said they are opening a probe to see how effective programs are to prevent the growth of extremism and criminal gang support in the two million-strong US military force.
But the Defense Department has not yet released any data on the size of the problem.
The inspector general's probe announcement came after a letter on Thursday from 14 US senators urging the Pentagon to look more closely at the problem.
"The issue of white supremacy and extremist ideology within the ranks of our military is not new, but the attack on the Capitol makes clear this alarming trend must be immediately addressed," they said.