Up to half a dozen parakeets have become regular visitors to a garden in Dublin.
Cathal Mac an Bheatha has been filming the green ring-necked parakeets on feeders in his garden in Fairview for the past 12 months.
The species, which is native to Africa and Asia, is present in large numbers in many European cities, including London where the population has soared.
Parakeets established a base in the English capital's parks after captive birds escaped or were released into the wild decades ago.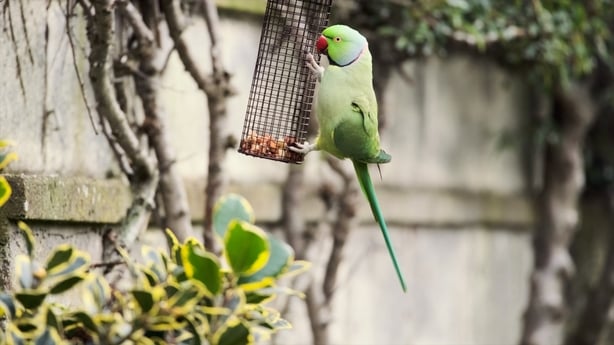 Last year, the species was recorded for the first time in the Irish Garden Bird Survey – the biggest and longest-running survey of its kind in Ireland.
BirdWatch Ireland says ring-necked parakeets can adapt better than other parakeets in colder weather.
They feed on a wide variety of fruit, berries, nuts, seeds, grain and household scraps.
The bird is considered to be an invasive species and the National Biodiversity Centre says anyone who sees one can record sightings on its website.