460,000 people will receive the Pandemic Unemployment Payment this week – an increase of over 15% in the last seven days, according to the Department of Social Protection.
The 62,715 rise in claims reflects the re-introduction of tighter public health restrictions and more business closures as the prevalence of Covid-19 has risen in recent weeks.
Construction saw the highest weekly increase of almost 75%, rising from 32,152 last week to 56,217 people, following the closure of many sites on Friday 9 January.
However, today's total for PUP claims still falls short of the peak of around 600,000 claims last May.
The weekly PUP statistic does not include 189,860 people recorded on the Live Register as of the end of December.
When the two are combined, just under 650,000 people are currently entirely dependent on the state for income support.
This week's PUP claims will cost over €138m, with the total cost since the scheme was launched last March now exceeding €5.2 billion.
The Minister for Social Protection Heather Humphreys described the figures as a "stark reminder" of the impact of Covid-19.
She noted that these are the highest figures since last June, when the country was starting to emerge from the initial period of restrictions.
She said that her department had processed over 14 million PUP payments to over 830,000 people in need of support – the equivalent of seven years of Jobseekers claims – in the space of 10 months.
The Minister stressed that the scheme remains open until 31 March to assist those in need.
The sectors with the highest number of PUP claimants are Accommodation and Food Service activities (110,351) followed by Wholesale/Retail Trade (73,382) and Construction (56,217).
Over the last seven days, 5,042 people closed their PUP claims to return to work.
Meanwhile, the number of people claiming the Covid-19 Enhanced Illness Benefit has risen to 10,484 from 6,412 in the last seven days.
The 64% increase spread across every county reflects the incidence of coronavirus, which remains high.
---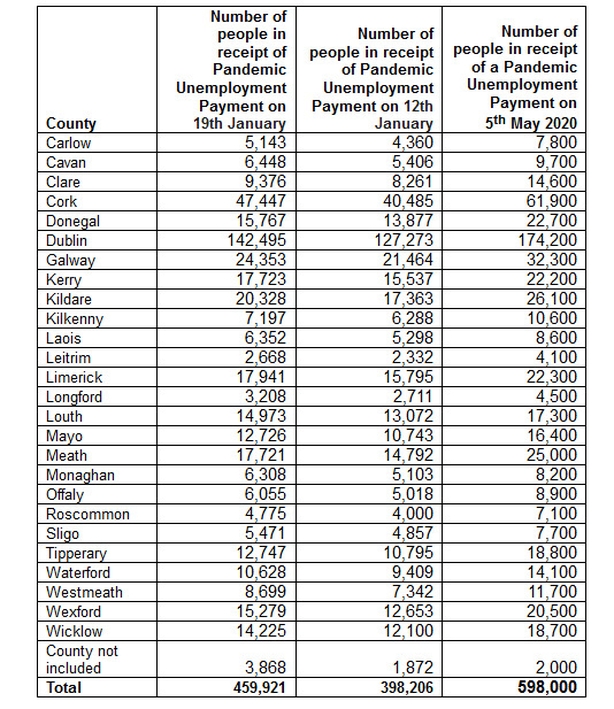 Since last March when the Enhanced Illness Benefit was launched, 113,344 people aged under 66 have been medically certified to receive it, either because they have contracted the virus, or because they have been advised to self-isolate on a precautionary basis.
The sectors with the highest number of eligible recipients are Wholesale/Retail (24,517) and Human Helath/Social Work Activities (19,796).
Minister Humphreys urged workers to avail of the Illness Benefit, adding; "do not take the risk of going to work if you are at risk of spreading the virus or infecting others".