Pharmaceutical company Pfizer is to temporarily reduce deliveries to Europe of its vaccine against Covid-19 while it upgrades its production capacity, with the head of the Irish vaccine taskforce saying that an "accelerated programme planned for this weekend" may have to be adjusted.
In a statement, the company said that in order to deliver their "newly stated goal of 2 billion" doses of the vaccine in 2021, it is necessary to modify manufacturing processes and facilities.
The company had previously been aiming to produce 1.3 billion vaccine doses this year.
The reduction will affect all European countries, the Norwegian Institute of Public Health (FHI) has said.
The company said that "although this will temporarily impact shipments in late January to early February, it will provide a significant increase in doses available for patients in late February and March."
Pfizer said there "may be fluctuations in orders and shipping schedules" in the immediate future to quickly enable the increased production volumes.
Yesterday the Chief Executive of the Health Service Executive, Paul Reid, said Ireland has received 152,100 doses of the Pfizer/BioNTech vaccine to date.
The Head of the Government's Covid-19 Vaccine taskforce, Professor Brian MacCraith, said the implementation plan of the Covid-19 vaccine will be adjusted accordingly amid news of the delay.
He said the "very accelerated programme planned for this weekend" may have to be adjusted.
Speaking on RTÉ's News at One Prof MacCraith said "early indications from Pfizer is that it might be just three or four weeks."
"What we will be watching very carefully is the dual dose aspect of this," he said.
"That is for those individuals that have received their first dose, to actually focus on ensuring that that second dose, which originally was recommended for 21 days, that that would be provided for those individuals."
"The buffer and the reserve will have to be to the forefront of our modeling," he added.
"It's that whole issue of the uncertainty of all of this roll-out that is underpinning so much of what we do. The plan is intended to be adaptable. We model through this now. And as soon as we get solid information from Pfizer, we will adjust accordingly."
---
Prof MacCraith said around 1.4 million doses are arriving this quarter, but he said in "quarter two, and three, it could be over a million a month."
He said Ireland has "been able to leverage the benefit of being a member of the European Union, already with a commitment to over 16 million doses of vaccines."
He said "if we were having operating at an individual country that might have been that possible."
Prof MacCraith said the fact that Ireland is now rated number two across EU members in terms of the pace of vaccination roll-out is "significant".
He said there will be a greater degree of information being communicated to the public over the "coming weeks."
The FHI said this morning that they "had expected 43,875 vaccines doses from Pfizer in week 3 (next week). Now it appears that we will get 36,075 doses".
Non-EU Norway is getting access to the vaccines obtained by the European bloc thanks to Sweden, European Union member that will buy more than it needs and sell them to Norway.
The institute said there would be no delays in the roll-out of the vaccines to Norwegians as it had built reserves of vaccines in Norway since it had begun receiving deliveries.
Many EU nations say they are receiving lower-than-expected supplies of Covid-19 vaccines and complain of uncertainty over future deliveries, EU officials told Reuters.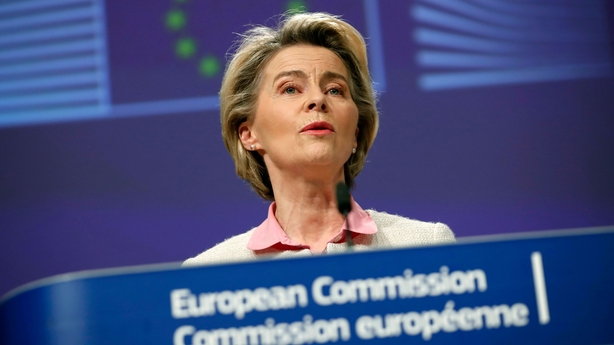 EU backing for vaccination certs
The European Commission chief Ursula von der Leyen has said Brussels backs the idea of a certificate identifying people vaccinated against the coronavirus.
However Ms von der Leyen held back on whether it could offer privileges to holders.
"It is a medical must to have a certificate that you have been vaccinated," Ms von der Leyen told reporters ahead of a visit to Portuguese capital Lisbon, offering her support to a proposal from Greek Prime Minister Kyriakos Mitsotakis.
She added that "whether that gives a priority or access to certain goods, this is a political and legal decision that has to be discussed on the European level".
Last month the World Health Organization trailed plans for digital vaccination certificates as countries began rolling out shots to their populations.
But beyond keeping track of who has been inoculated, WHO experts "do not recommend immunity passports" that would supposedly assure bearers were protected against Covid-19 after vaccination or surviving infection, the UN body's senior emergency officer for Europe Catherine Smallwood said at the time.