Many residents in nursing homes across the country are optimistic for the year ahead as they receive their first doses of the Covid-19 vaccine.
As of Sunday 17 January, 23,000 doses had been administered to residents and staff in nursing homes and long-term care facilities since vaccination began.
While yesterday 79-year-old grandmother Annie Lynch received the second dose after being the first person in the country to receive the vaccine on 29 December.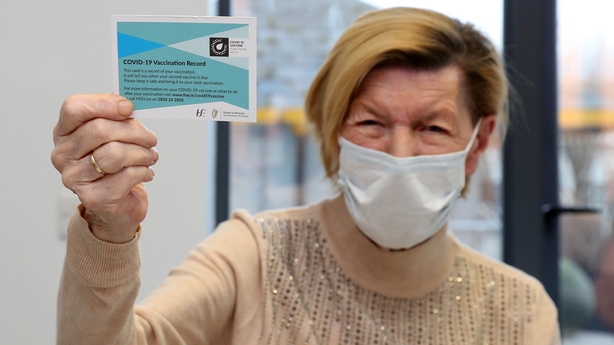 Across the country, nursing home residents are hopeful they will be able to spend more time out of their rooms, see friends and family and go for walks as the vaccination programme rolls out.
In Cramers Court Nursing Home in Cork, Mary Horgan and Betty Gaffney said the arrival of coronavirus was scary but with the arrival of the vaccine they are hoping they can get back to seeing their families and some kind of normality.
Mary, 80, was relieved when she heard about the vaccine.
"I'm afraid of catching the virus. It's all over the world. I can't go to my bingo, my social life has gone down the drain," she said.
Mary, who is from Farranree in the northside of Cork city, has been passing the time reading the papers, "the Echo of course", and her favourite television shows while cocooning.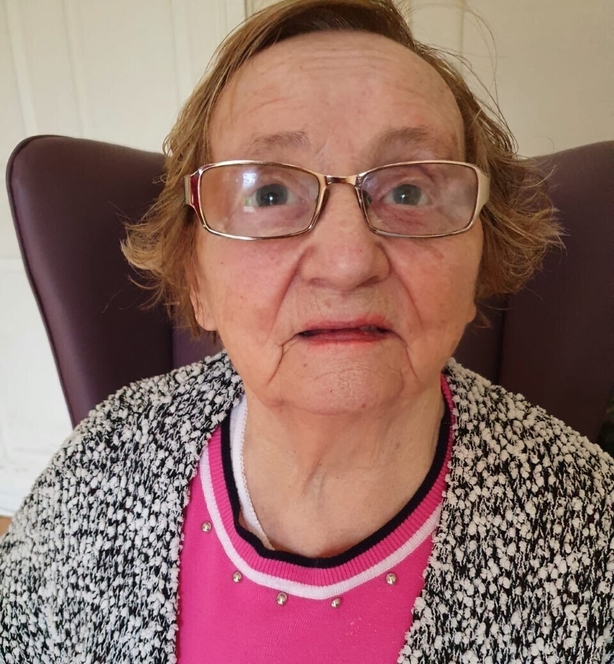 "The Young Offenders, they're north side boys, and I'm a north side girl," she chuckled.
When the opportunity came to receive the vaccine, Mary said she was delighted: "Really delighted. Very privileged actually to be getting it to avoid getting the virus. I can go out again and go for my walks every day."
"And I want to see my grandchildren again," said Mary who admitted it has been months since she has seen them.
Originally from Cappaquin in Co Waterford, Betty Gaffney is also living in Cramers Court.
"I don't know my age but I can tell you the year I was born. As they say, you're as old as you feel and I was born in August 1933," she said.
Betty said the pandemic is the "most scary thing" that she has ever lived through. "You're nearly afraid to breathe in case you breath in the germs," she said.
Betty trained for years in the Mater hospital as a nurse and worked in the Army as an army nurse.
With her own medical background and a daughter who is a GP, Betty had no hesitation in getting the vaccine.
"I got it last Wednesday in my shoulder and it was fine. It was so efficiently done you've no idea. And being a nurse I knew all about it. I was ahead of everyone, thank God there's a proper cure for it," she said.
"It's like a light at the end of the tunnel. Although I don't like using that because I have nightmares about me in a tunnel and the light was so far away I never got to it. One of my nightmares," she laughed.
While visitor restrictions have been in place at the nursing home, Betty said she could not have been looked after better.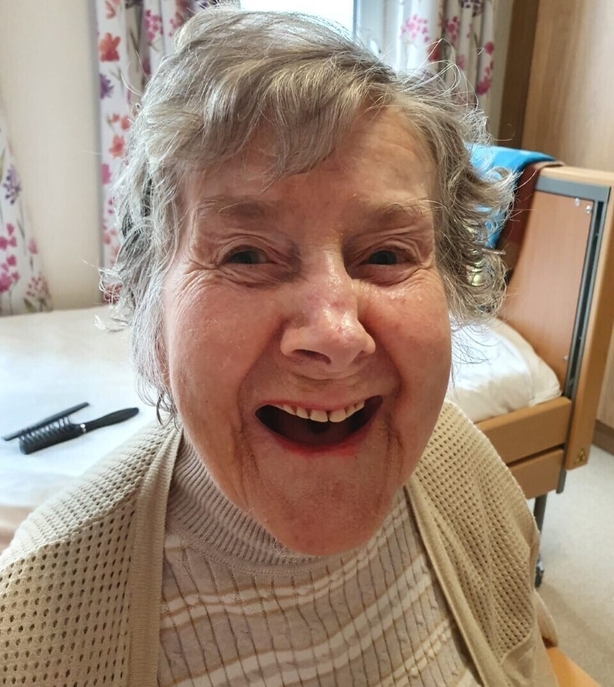 "I'm here and I'm being cocooned and I'm being so well looked after, it's all happening out there. So, you know, we're protected beautifully in here. And I've everything I could wish for, plenty of cappuccinos. And if I say I want anything, I get it before the last word is even out of my mouth. I'm a chocaholic and I can tell you the chocolate comes flying into me," said Betty.
Once she has the second dose of the vaccine and more people in the community get vaccinated, Betty is hoping to see her family and travel.
"I have a son in America and I miss going out there. I love going to America, I've a great time and can spend loads of money, you get great bargains," she said.
In Dún Laoghaoire in Co Dublin, 98-year-old George Morrison is a resident in Ashford House.
George directed the pioneering 'Mise Eire', Ireland's first feature-length historical documentary on events surrounding the 1916 rising.
His passion for film was ignited when his grandmother introduced him to the cinema when he was five years old.
He was so impressed by Rex Ingram's 'The Conquering Power' that he decided almost on that very day to become a film director.
Now George is impressed by modern scientists for creating a vaccine during the pandemic.
"I have nothing but surprise evoked by the vaccine being developed so quickly," he said.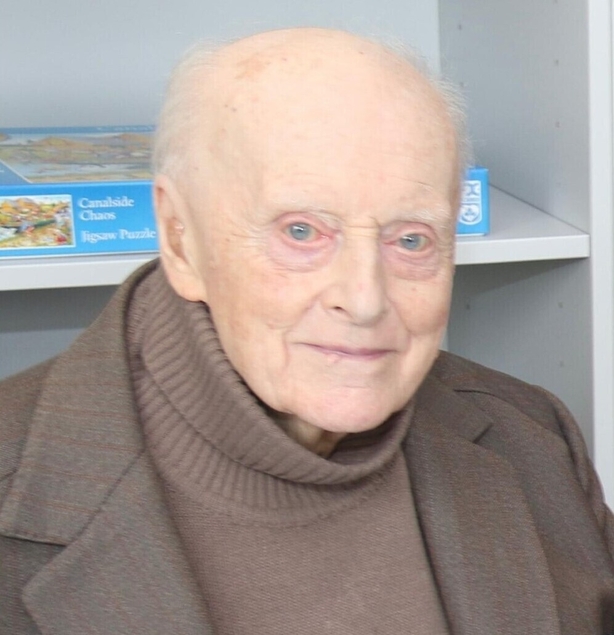 "I was delighted to receive the vaccine so early, but I have succeeded in resisting any side effects. There have been no side effects whatsoever."
"I look forward to restarting my life normally again. But I am prepared to wait a little while to ascertain whether it all works", said George.
Residents in Ashlawn Nursing Home in Tipperary have been cocooning in their rooms throughout the pandemic.
Since May, there has been a visiting hub in the oratory within the nursing home with an outdoor entrance for visitors and glass separating visitors and residents.
But the restrictions have been tough and residents are keen to mingle with each other again and see their families without a door or window in the way.
Co founder of Ashlawn, 78-year-old Marie Carey, has been living there since she had a stroke four years ago.
The family-run nursing home is now managed by Marie's daughter and her daughter's husband.
"For me personally, I stayed in my room. Actually, I got the Covid myself but I came through it. I was delighted to get the vaccine, at least it gives us some protection and you feel better for it anyway."
"I wouldn't say it will change my life, but I think it would give you a better outlook and some protection that you haven't had before," said Marie.
She said the administration of the vaccine was very efficient when the team came to the nursing home.
"They came from the hospital, there was about seven people altogether and they were very good I must say. They were very nice and they got through it very routinely. Everybody got an injection in their arm and it was grand," said Marie.
Another resident in Ashlawn, 98-year-old Leo Carey, has put his faith in science and considers the vaccine as an "antidote" to Covid-19.
"I was delighted when Pfizer came up with a solution to the problem. I got my hypodermic injection by a very well-trained nurse. I'd say she had put in thousands of injections before. I never even felt it," he said.
Leo was happy to get the vaccine but he said he hasn't been too worried.
"I'm 98 years on this planet and I don't think I've an awful lot longer to stay here so I'm prepared to go to my maker if possible. That's the way I kept myself level headed about the whole thing," said Leo.
"I had a lot of pity on people who got the disease. I have good health, thanks be to God, and I have been looked after very well."
Leo says the restrictions are necessary but misses his daughter-in-law dropping in biscuits and the companionship of the other residents.
"I miss the congregation and the companionship of all my friends here and the times when you used to be able to have a sing song in the dining room. But you just have to put up with it," he said.
Also a resident in Ashlawn, 89-year-old Nora McCormack from Portroe wasn't sure what to make of the pandemic when it arrived last year.
"I'm nearly 90 and I never saw anything like it, 'tis a nuisance. They can't come in the family. I have two sons and four daughters. They come outside the window and they ring me every day."
Nora said she misses her family terribly and hopes she can see them again once fully vaccinated.
"I was excited to get the vaccine. I'll be able to see my children again and they will be able to come into me," said Nora.
Tom Tobin isn't a fan of window visits either and doesn't think talking through the door to people is right.
The 88-year-old lives in Tinny Park Nursing Home in Kilkenny and feels lucky to have received the vaccine in the early stages when so many people are still waiting on it.
"To tell you the truth, I didn't mind the vaccine because I have had loads of injections when I've had operations, so I don't mind them at all," he said.
Tom doesn't know if it will change his life but he's looking forward to the second dose of the vaccine.
"Well, you'd feel safer, wouldn't you? And I'll be able to have the neighbours in to visit me, that would mean a terrible lot," said Tom.