The union that represents Special Needs Assistants has said agreement to reopen schools for children with special educational needs has not been reached.
In a statement issued late last night, hours after the Department of Education told schools that interim arrangements were in place, Fórsa said that efforts to achieve the partial reopening are still under way and that enhanced safety measures have yet to be agreed.
The union said that while it hoped to be able to advise SNAs that it was safe to cooperate with the phased reopening of schools for children with special educational needs, a final decision would not be reached until Tuesday.
Yesterday evening, a letter was sent to schools outlining procedures for reopening agreed between the Department and the INTO and Fórsa trade unions.
The letter stated that all primary school children who have significant additional needs would return to the classroom next Thursday.
It said the interim arrangements applied to children attending special schools and to all primary school children with significant special needs.
The letter stated that all special needs assistants and special education teachers should return to school on Thursday, unless they are on approved leave, or health-related absence.
The letter was sent out with the agreement of the INTO and Fórsa, however late last night the union said an agreement had not yet been reached. It said talks with the education department had not concluded, and that a number of issues remained to be resolved.
These include the safety of SNAs at high risk of Covid-19 infection and the absence of childcare arrangements for workers now that the Government's level five restrictions have closed schools and childcare services.
The letter to schools states that while students attending special schools will attend on alternate days, in order to reduce the number of children in attendance at any one time, all other pupils will return to education 5 days a week.
---
---
It states that pupils with significant special educational needs who are usually in a mainstream classroom should be grouped into temporary special education groups.
It said: "Schools should also have regard to the requirement to comply with the public health guidelines for a safe school environment as set out in the School Covid-19 Response Plans, including the use of social distancing, respiratory and hand hygiene measures and creation of bubbles and pods as appropriate."
It says that the full reopening of schools is planned for 1 February.
It states that the new temporary arrangements cover all special classes in primary schools, including early intervention special classes for children with autism or hearing impairment.
The letter states that the provisions also apply to "pupils with the most significant additional needs in mainstream classes".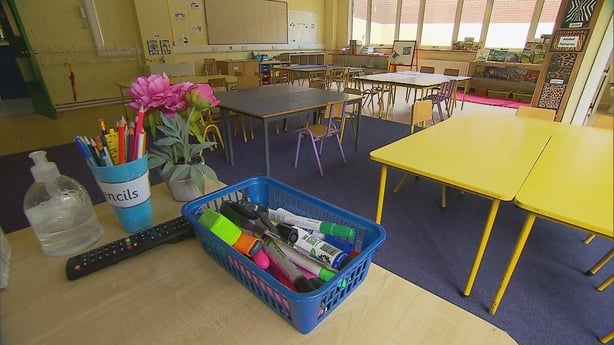 These will include pupils who may have conditions such as Autism, Down syndrome, or sensory impairments and other disabilities.
It states that small schools, who may not have a full-time special education teacher should work collaboratively with other schools to provide as much in-school provision as possible.
Schools will also be allowed to reopen for other vulnerable pupils where capacity allows, the department says. This may include children from disadvantaged backgrounds.
It said: "Schools can only do so where they are satisfied that they have provided appropriately for the children with significant additional needs but where there remains capacity to support other pupils, schools have the flexibility to consider vulnerable pupils".
Schools have been asked to ensure that risk mitigation measures introduced in September remain in place along with additional requirements such as the provision of medical-grade masks to all SNAs and other school staff who are working within 2m of a pupil to whom they are delivering personal care or attention.