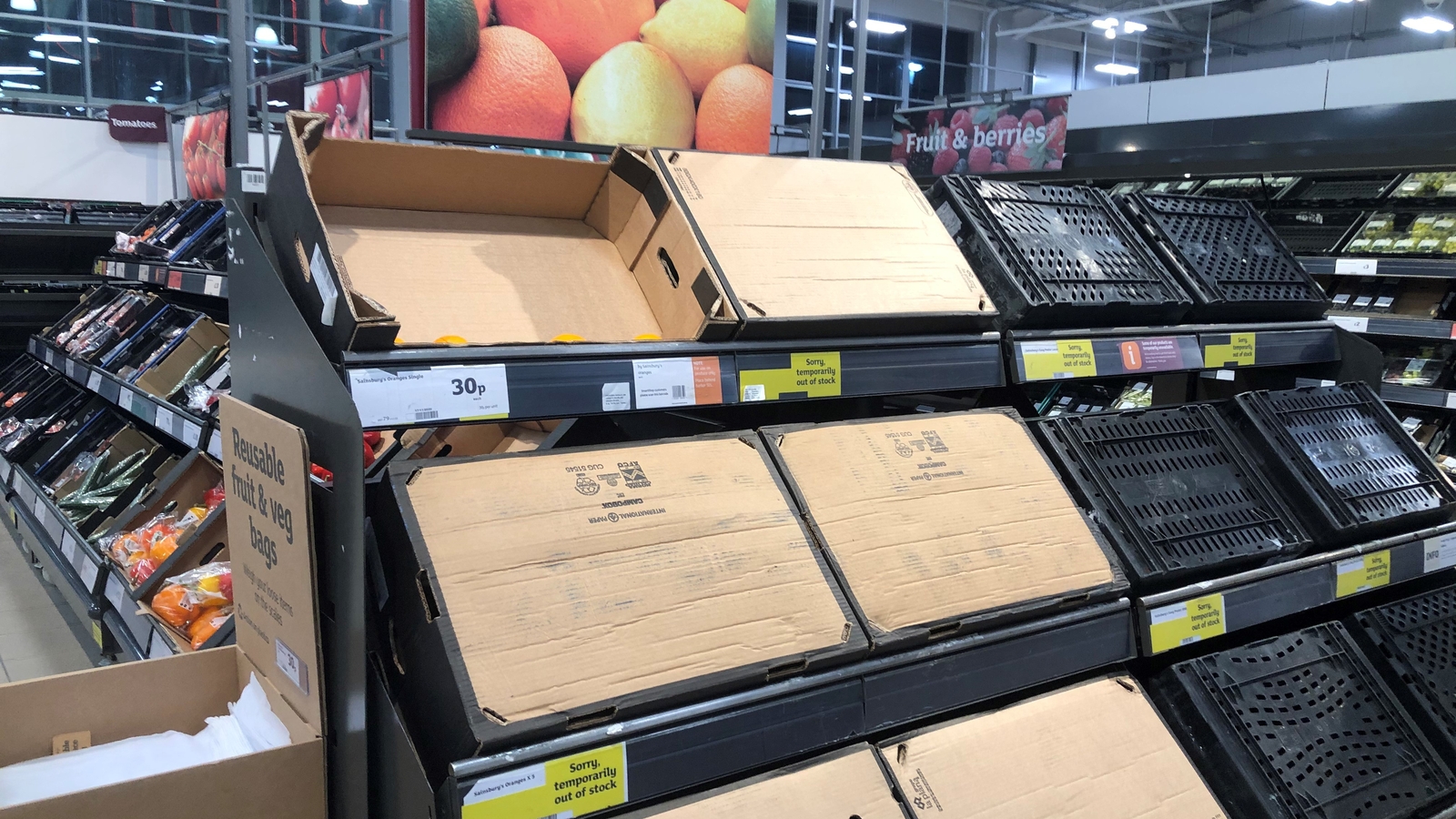 Retailers in Northern Ireland are urging shoppers not to stockpile after problems with supplies left many shelves empty.
Smaller retailers say they fear months of disruption because of confusion about arrangements for importing food products from Britain following Brexit.
Retail Northern Ireland CEO Glyn Roberts said consumers should shop normally and not hoard products.
Speaking on RTÉ's Morning Ireland, Mr Roberts acknowledged there were some delays on goods getting to the shelves and retailers were working to resolve the problems.
He said many of their members in wholesale have been preparing for some time for this scenario to make sure they are aware of all the challenges, but said the focus now needs to be put on the Great Britain suppliers.
"The big challenge is a lot of the GB-based suppliers, who have clearly not been ready for this, have not had the forms filled in, or aware of the new system", he said.
He added that it is vital the British government reinforces that message so the GB suppliers are complying with the new regulations "because ultimately we are trying to ensure that hardworking families in Northern Ireland have the full product range and are not paying more for their grocery bill."
Are NI supermarket issues really just Brexit 'teething troubles'?
The British government has set up a special team to work with supermarkets trading in Northern Ireland which are having difficulties with deliveries.
Among the stores affected are those owned by Tesco, which has reported disruption of some supplies to its stores in Ireland since 1 January when the post-Brexit trade deal with the EU came into force.
Tesco CEO Ken Murphy said short shelf-life ready meals were among the products affected in deliveries to outlets in the Republic and to Northern Ireland.
He said he believes the problems would be ironed out over the coming weeks and months.
Meanwhile, DUP MP Jeffrey Donaldson has warned that the Good Friday Agreement risks being breached as a result of disruption to post-Brexit trade.
Speaking on BBC Radio, Mr Donaldson said: "The protocol (which governs the new arrangements) is damaging the Northern Ireland economy and if it damages the Northern Ireland economy it actually undermines the Good Friday agreement.
"And furthermore, that agreement makes clear that Northern Ireland will remain an integral part of the United Kingdom unless the people of Northern Ireland vote otherwise.
"Therefore this breaches a fundamental element of the Good Friday agreement by increasingly separating Northern Ireland from Great Britain in trading terms – our biggest trading trading market, and that simply doesn't help anyone in Northern Ireland," he said.
Northern Ireland's Agriculture Minister Edwin Poots has claimed hospitals and schools risk running out of food when post-Brexit Irish Sea trade arrangements are fully implemented.
A grace period that limits the level of red tape required to move retail food products from Great Britain to Northern Ireland runs out at the end of March.
Once that exemption expires supermarkets will have to comply with more rigorous animal health certification processes under the terms of Brexit's Northern Ireland Protocol.
"It was made very clear to us by the suppliers to both hospitals and schools that if the current arrangement for supermarkets isn't extended in a few months' time that they will not be able to supply our hospitals and schools with food," Mr Poots told BBC Radio Ulster.
"Seriously, are we going to have a situation where our hospitals and schools are not able to feed the children at school, they're not able to feed their patients?
"That is an outrageous situation that we in Northern Ireland have been put in as a result of the protocol negotiated between the UK government and the European Union."
Additional reporting PA