Lawyers for Alexei Navalny have said they have not been granted access to him since the Kremlin critic was detained on his return to Russia yesterday, and that his condition was unknown.
Police detained Mr Navalny on arrival in Moscow after he flew home from Germany for the first time since he was poisoned last summer.
German Foreign Minister Heiko Maas has called for Mr Navalny's immediate release.
He said Mr Navalny "took the conscious decision to return to Russia because he sees it as his personal and political home", adding it was "totally incomprehensible" that the Russian authorities arrested him on his arrival.
Mr Navalny was detained at Moscow's Sheremetyevo airport less than an hour after he flew in from Germany, where he had been recovering from the poisoning with a nerve agent he says was ordered by President Vladimir Putin.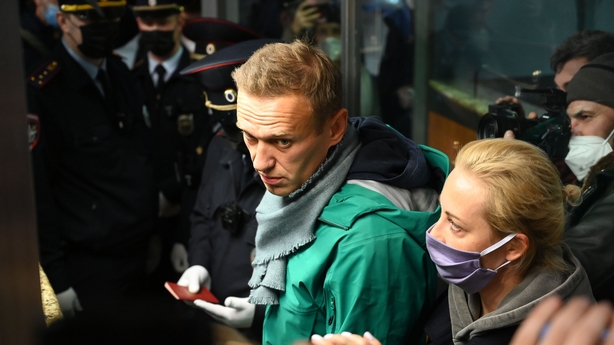 The United States, the European Union, several EU governments, Canada and a senior aide to US President-elect Joe Biden immediately called for his release, with some in the EU urging new sanctions against Moscow.
Rights groups joined the calls, with Amnesty International saying Mr Navalny had become a prisoner of conscience and accusing Russian authorities of waging "a relentless campaign" to silence him.
Russia's FSIN prison service said in a statement that it had detained Mr Navalny for "multiple violations" of a 2014 suspended sentence for fraud, adding that "he will be held in custody" until a court ruling.
The FSIN said it had previously warned Navalny he would be arrested for failing to meet probation conditions while in Germany, including that he check in with the service twice a month.
Mr Navalny fell violently ill on a flight over Siberia in August and was flown to Berlin in an induced coma. Western experts concluded he was poisoned with Soviet-designed nerve toxin Novichok.
The Kremlin denies any involvement and Russian investigators said there were no grounds to investigate.
Mr Navalny may now face criminal charges under an investigation launched late last year by Russian investigators who say he misappropriated over $4 million worth of donations.