The National Mall is a long, rectangular park in the middle of Washington DC.
It stretches for three kilometres from the Capitol Building to the Lincoln Memorial and is lined by some of the best-known museums and monuments in the world.
On Inauguration Day, it is normally packed with thousands of people watching the new US president being sworn into office, but not this year.
This year it was eerily quiet with no members of the public allowed to gather.
The inauguration was always going to be a scaled back affair because of the coronavirus but following the storming of the Capitol Building earlier this month, the centre of Washington was placed under a security lockdown.
Streets that would usually be lined with people, were instead lined with armed National Guard troops and barbed wire fences.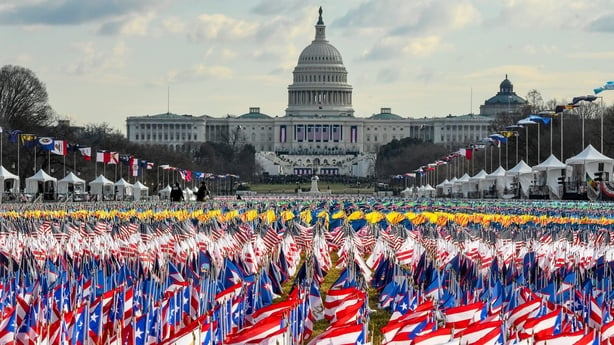 The National Mall was transformed into a field of flags – 200,000 of them to represent the people who could not be there.
Inauguration Day was windy and the long, straight Mall acts like a tunnel amplifying the force of the gales.
Smaller flags from individual states that had been planted into the soil were able to withstand the gusts and fluttered in waves. It was a striking image.
Larger US flags had been placed on the gravel pathways alongside the lawns and were no match for the high winds. One by one they started to fall over.
Staff were quick to replace them or, in some cases, take them away in their golf carts and wait for the winds to die down.
The image of toppled American flags is the last thing organisers would want the world to see on Inauguration Day.
Just minutes before the winds started to pick up, Joe Biden had delivered his inaugural address.
These speeches are typically about unity and healing, and given how divided America is right now, it was important for Mr Biden to make such appeals.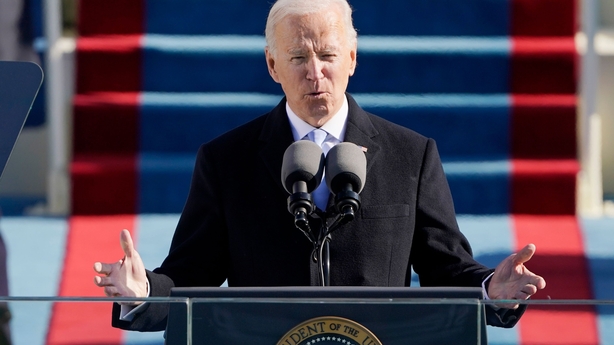 Millions of voters do not see him as their legitimately elected leader. They continue to believe baseless claims that the election was stolen and that there was widespread voter fraud.
These falsehoods led to the storming of the Capitol Building where, just two weeks later, Joe Biden was sworn into office.
His address wasn't just about unity, it was also perseverance and survival.
He spoke about how democracy had come under attack, but survived. Truth had been undermined, but prevailed.
"Politics need not be a raging fire destroying everything in its path. Every disagreement doesn't have to be a cause for total war," Mr Biden said.
That raging fire may be reignited in the coming weeks with the commencement of Donald Trump's impeachment trial in the US Senate.
It is likely to lead to a divisive political showdown between Republicans and Democrats and may well disrupt the new president's legislative agenda.
But before that, Joe Biden was kept busy in his first days in office signing a series of executive orders.
The measures will see the US rejoin the World Health Organisation and the Paris Climate Accord. Funding was cut for Donald Trump's border wall and his travel ban affecting Muslim-majority countries was ended.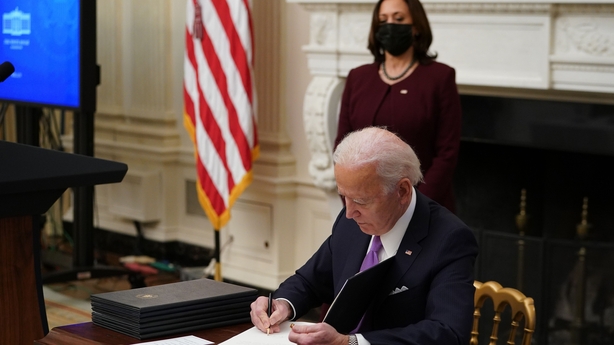 Many of the executive orders related to the coronavirus crisis. The Defence Production Act will be invoked to ramp up vaccine manufacturing and distribution. Mask-wearing will be enforced in federal buildings, airports and on public transport.
International travellers arriving into the US will have to undergo testing and quarantining.
Throughout the week, Mr Biden warned that things would get worse before they got better. He spoke of dark days ahead and predicted that the current US death toll of 400,000 would likely rise to 500,000 by next month.
It was a very different approach to that of the previous administration. Donald Trump admitted downplaying the virus and was eager to embrace quick-fix solutions and unproven cures.
America's top infectious disease expert Dr Anthony Fauci welcomed the new approach while delivering a coronavirus briefing from the White House on Thursday.
"The idea that you can get up here and talk about what you know, what the evidence is, what the science is, let the science speak. It is somewhat of a liberating feeling," Dr Fauci said.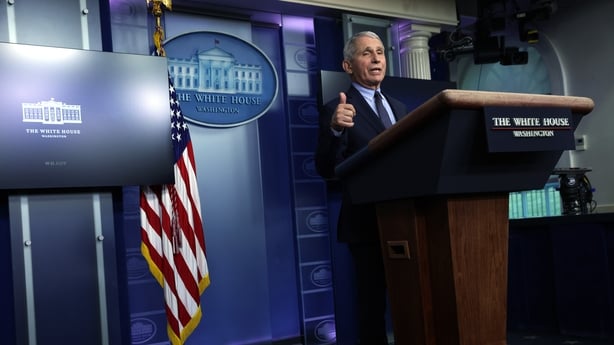 Joe Biden has promised to deliver 100 million vaccine doses in his first 100 days in office and was challenged by a reporter this week who asked him if this was ambitious enough.
"When I announced it you all said it wasn't possible. Come on, give me a break, man," Mr Biden responded.
People will give him a break for now. He is only days in the job but addressing the coronavirus is his first major challenge and his most immediate priority. He will be judged on his handling of the crisis and it will define the early days of the Biden presidency.
As the wind battered and knocked US flags on an empty National Mall a new president spoke about the resilience of America and Americans.
A toppled flagpole is easily righted but restoring a country battered by a devastating pandemic and deep political divides is a far bigger challenge.