"We're going to flip her facing towards the ventilator"
Seven members of the ICU team in Tallaght University Hospital 'prone' a patient.
By now, the process of turning a patient onto their stomach is familiar treatment in ICUs across the country for patients whose lungs are not functioning.
On Christmas Eve, the number of patients in ICU was 22. Since then the figure has gone up every day except one. It now stands at 214.
Nearly a month into Level 5 restrictions, it had been anticipated that pressure on hospitals would ease this week.
"That hasn't happened, we haven't seen that yet," said Dr Michael Power, an ICU Consultant at Beaumont Hospital.
As the Clinical Lead for the HSE's Critical Care Programme, Dr Power said the current trend of increasing ICU admissions remains a "worry".
Hospitals across the country are now in surge capacity because ICUs are full.
In total, 350 critical care beds are available, both permanent and temporary. Today, 342 of those beds were being used.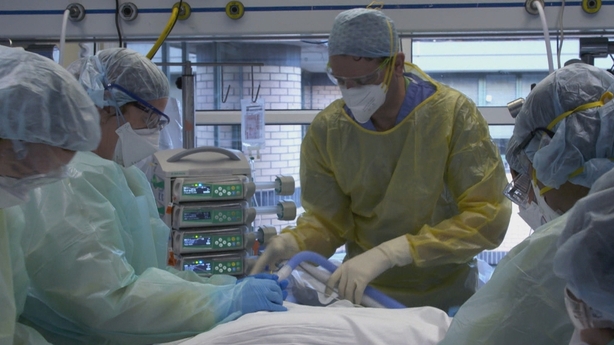 "Past that figure care becomes unreliable because we don't have the identified staff to look after the critically ill patients," explained Dr Power.
"It's a clinical risk, there's no doubt about it."
"What stands out is the sheer numbers in (ICU) with one particular condition, Covid-19," said Professor Mary Horgan, a Consultant in Infectious Diseases in Cork University Hospital.
While, there are 214 people in ICU with Covid-19, there are hundreds more on wards requiring oxygen.
"There are around 300 requiring non-invasive ventilation throughout the wards in our hospitals," Professor Horgan said.
In Galway, hospitals were under "significant pressure" today, compounded by staff being absent.
"There are over 400 people on Covid related leave between Portiuncula and Galway University Hospitals," said the Tony Canavan, the CEO of the Saolta Hospital Group.
"It's extremely difficult to provide full and safe services with that number of people away," he explained.