The Irish Nurses and Midwives Organisation has called for all private hospital capacity to be fully nationalised into the public healthcare system, to deliver additional beds and staffing over the coming weeks.
The 40,000 strong union described the health service as being under "unprecedented" pressure, and noted that current Government plans only provide for the use of one third of private hospital capacity.
The union has also demanded that the practice of allowing close contacts of people diagnosed with Covid-19 to return to work should end immediately, and is seeking assistance with childcare provision to allow health care professionals to attend work.
It also wants higher safety standards in areas like PPE.
The Health Service Executive's Chief Operations Officer, Anne O'Connor, has said asymptomatic close contacts were being monitored while at work by occupational health experts.
Ms O'Connor said the decision to recall staff was made due to the shortage of healthcare workers.
In relation to childminding provision, the INMO states: "This could take the form of partial school reopening for families of healthcare staff or an expansion of after-school care. This need is particularly acute among members with children in primary school."
The INMO also wants prioritisation of healthcare workers for vaccination to continue, and is demanding "protections and pay" for nursing and midwifery students and interns, "who are facing high COVID risks on no or unacceptably low pay, in many cases without necessary employment rights and protections."
---
---
INMO President and Beaumont emergency department nurse Karen McGowan said the system was overloaded and could not cope, and that frontline staff were paying the price.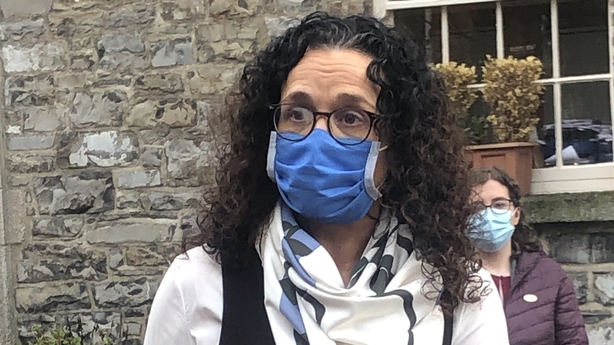 INMO General Secretary Phil Ní Sheaghdha described the situation as a national emergency, adding: "The public health service was not fit for purpose before the pandemic. It is now under a level of pressure not seen before."
Ms Ní Sheaghdha said there were huge numbers of very sick patients, with 7,000 HSE staff now out of work due to Covid-19.
She noted that over 2,500 healthcare workers were contracting the virus each week.

She said it was time for "all hands on deck" to protect frontline staff.
"It is beyond time to nationalise all private hospital capacity and to provide childminding for healthcare workers with children. Similarly, we cannot ask students to take on more work at the expense of learning, for no or low pay," Ms Ní Sheaghdha said.