A group representing mixed-race Irish children who were born in mother-and-baby homes has expressed shock at the findings in the Commission of Investigation's report that there was "no evidence of discrimination" in decisions around adoption.
The report into mother-and-baby homes was published last week.
It investigated the lives of women and children who spent time in those institutions between 1922 and 1998 – at least 275 mixed-race children were born in and spent time in the homes.
While welcoming the publication of the report and the State apology by the Taoiseach, representative group – The Association of Mixed Race Irish (AMRI) – said it is shocked by some of the findings, including that there was "no evidence of discrimination" in decisions around adoption, and by how some of the testimonies of mixed-race people were presented.
AMRI spokesperson Conrad Bryan said he "couldn't understand" how the Commission of Investigation reached such a conclusion.
"Even in the first statement it seems like a contradiction in terms; on the one hand to say there was no evidence of discrimination and then to continue on and say race was taken into account in placing children – that's a very confused inconclusive statement," he said.
Mr Bryan is also disappointed with how testimonies taken from mixed-race Irish children who spent time in these institutions was used by the Commission.
"It just appears that the testimony we've given has basically not been believed. They relied primarily on records they discovered and checked. However, a lot of the testimony can be seen in the report and people can read and make their own judgements on it and see the extent of the racism."
He added that the "commission says itself there was casual and unthinking racism, even negative bias, so they're clearly showing that racism existed."
---
Read more stories on the Mother and Baby Home report
---
Mr Bryan, who spent time in mother-and-baby homes, also believes some of the adoption rates for mixed-race children contained in the report indicate there was discrimination.
"I was in Pelletstown during the 1960s and the report says virtually 100% of illegitimate children were adopted. Of the majority of the mixed-race children in Pelletstown, only 48% were adopted. Now if that isn't racism, can somebody explain to me what is racism?"
In Mr Bryan's own case the commission found that his mother had signed the consent forms to allow him to be adopted but that when the commission located and interviewed the potential adoptive mother at the time, she said she was told his mother had not signed the adoption forms.
He said: "That may not sound on the face of it to be racism, but the fact there was such a negligence in the system, the fact that the adoption papers were lost, the fact that I spent four years in Pelletstown, and the fact that my pathway was to another orphanage where I ended up spending 18 years of my childhood … not to call that a result of the colour of my skin, it's too hard for words how shocked I am by that!"
'They saw a difference because you weren't carrying the white baby'
Sheila O'Byrne was 19 and pregnant when she entered St Patrick's Mother and Baby Home on the Navan Road in Dublin in 1976. She gave birth to her son in the institution the following year.
She says it was "different" and "they (the nuns there) saw a difference as well because you weren't carrying the white baby, you were carrying the mixed-race baby. I wasn't expecting the baby they wanted".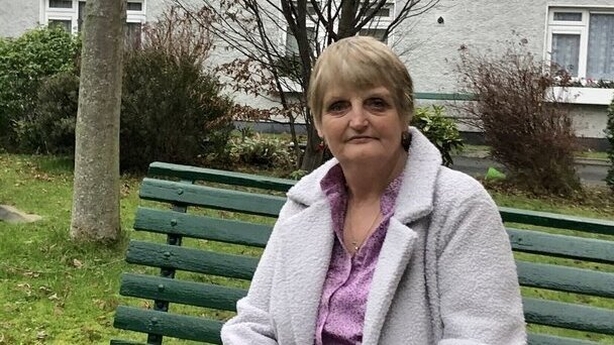 When her baby was born, Ms O'Byrne said the nuns in the home asked "what have we got here … what is this?" referring to the colour of her son's skin.
She wasn't allowed to wash her own clothes in the home, and Ms O'Byrne said she believes this was because she wasn't "expecting the baby they wanted".
Limitations of report
Professor of Migration and Social Policy at University College Dublin Bryan Fanning spoke with the Commission of Investigation for the final report about discrimination experienced by mixed-race children in mother-and-baby homes.
He points out that "at the time those children were going through those homes, Irish society didn't understand racism in the same way many other western societies didn't understand racism.
"The report captures aspects of people's experiences but it can't totally capture how people feel, the consequences that have been wrought on the lives of people," according to Prof Fanning.
But, he added: "It offers us insights nevertheless into the experiences of people that we really need to think about and discuss. Such as experiences of racism in the cases of children who had a black parent, who went into the system."
Prof Fanning said: "We get an awful lot of useful information on the record that we can think about and we need to process it and we need to take account of it in the kinds of decisions we're making now about how we deal with our diverse Republic."
Mr Bryan said he understands the report "is not going to change" but "I have seen the apology and the apology went that little bit further than the cold statements in the report".
He and AMRI are now asking Minister for Children Roderic O'Gorman to meet and "be honest about our community and race and acknowledge the failings that have happened and be open to give concessions to look at racism that affected all of our community".
"This report only covers mother-and-baby homes and it includes 275 children of mixed race," Mr Bryan said, adding that "initially when we were lobbying to be included in the report, we identified 70 – this is a bit more than I expected.
"It's large enough to actually say there are human rights issues that must be addressed," he concludes.
A spokesperson for Minister O'Gorman says the minister "engaged with representatives from AMRI prior to the report's publication, and is happy to meet with them again now that the report has been published.
"He plans to initially engage with them through their membership of the Mother and Baby Home Collaborative Forum, but also in a direct meeting in order to hear their particular concerns," the spokesperson added.