German Chancellor Angela Merkel wants to extend a lockdown to restrict coronavirus infections until 15 February, Bild newspaper reported, citing a draft resolution of the federal government.
Ms Merkel is due to meet the premiers of the federal states today to decide on extending a current lockdown which has closed most shops and schools and introducing new restrictions.
She is likely to agree with regional leaders on stricter requirements for working from home among other measures.
New infections have been decreasing in recent days and pressure on intensive care units has eased slightly, but virologists are worried about the possible spread of more infectious variants of the virus.
"The infection numbers have been going down for several weeks or stagnating and that's good. Now we are facing a very aggressive mutation that we have to respond to," Berlin Mayor Michael Mueller said.
Mr Mueller said curfews, already in place in states including southern Bavaria and Baden-Wuerttemberg, would be under discussion but were unlikely to be imposed everywhere.
"(On curfews) states will want to decide on the basis of infection numbers in individual states," he said.
The focus would be on boosting working from home, he said.
---
---
"There are some places of production where workers have to be present but there is much more room for manoeuvre," said Mr Mueller, adding states aimed to get employers to have to justify why employees had to come to work.
Also up for discussion is a compulsory wearing of heavy duty masks in shops and on public transport which offer more protection than cloth coverings, said Mr Mueller.
The number of confirmed coronavirus cases had risen by11,369 to 2.05 million, the Robert Koch Institute (RKI) for infectious diseases reported. The death toll was up 989 at 47,622.
"We will have to step it up a notch to bring the current early successes to the finish line," Economy Minister Peter Altmaier told broadcaster RTL/n-tv.
Covid-19 still circulating at a 'worrying' level in France
French Health Minister Olivier Veran said the coronavirus was still circulating at a "worrying" level in France, but stopped short of recommending a third national lockdown.
"We already took a tough decision last week to impose a 6pm curfew on the country as a whole," Mr Veran told France Inter radio.
"I cannot say we will impose a confinement but the circulation of the virus remains worrying."
Taiwan cancels new year festival after local infections reported
Taiwan has cancelled a major festival during the upcoming Lunar New Year holiday as it reported four locally transmitted cases of Covid-19, the biggest daily rise in local infections in nearly 11 months.
Taiwan, which has kept the pandemic well under control thanks to early and effective prevention methods, has been unnerved by new domestic transmissions, first in December and now in a hospital in the northern city of Taoyuan.
It has reported 868 cases, the majority of which were imported, including seven deaths, with 102 in hospital being treated.
The Taiwan Lantern Festival, an annual celebration to mark the end of the upcoming Lunar New Year in mid-February, will be cancelled this year because of Covid-19, the Ministry of Transportation and Communications said, citing the recent local infection cases.
The festival, which features oversized lanterns and fireworks displays, attracts hundreds of thousands of visitors every year and has become a major selling point for the government to attract tourists from overseas.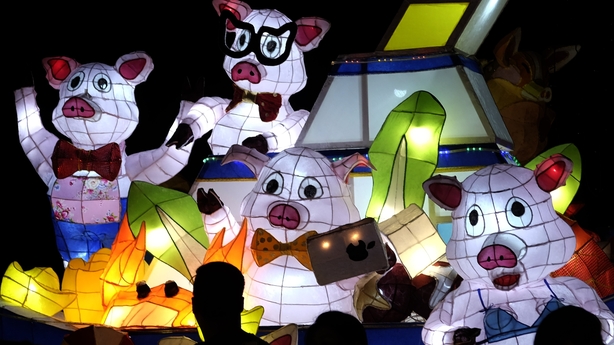 The announcement came shortly after Taiwan reported four locally transmitted cases of Covid-19, the most since last February.
All four cases are related to the Taoyuan hospital outbreak and Taiwan's health ministry is planning to move more than 200 patients out of the hospital into isolation wards.
"We strongly recommend that large-scale events be cancelled," said Health Minister Chen Shih-chung. "The situation is under our control at the moment because the cases can be clearly traced."
China's latest Covid outbreak worst since March 2020
China is battling the worst outbreak of Covid-19 since March 2020, with one province posting a record daily rise in cases.
China reported more than 100 new Covid-19 cases for a seventh day today.
Of those, 106 were local infections, with 43 reported in Jilin, a new daily record for the northeastern province, and 35 in Hebei province, which surrounds Beijing, the National Health Commission said.
The Chinese capital itself reported one new case, while Heilongjiang in the north reported 27 new infections.
Tens of millions of people have been in lockdown as some northern cities undergo mass testing for coronavirus amid worries that undetected infections could spread quickly during the Lunar New Year holiday, which is just weeks away.
Hundreds of millions of people travel during the holiday, due to kick off in mid-February this year, as migrant workers return home to see family.
Authorities have appealed to people to avoid travel in the run-up to the holiday and stay away from mass gatherings such as weddings.