Europe is in a race against time. While the early rollout of the vaccine has been beset by difficulties, it is expected to pick up dramatically from March. But the arrival of more infectious Covid variants is threatening to extinguish the hopes associated with mass vaccination.
"[EU] countries' curves are either flat or increasing, so we are at a critical stage," says a senior EU official. "The key bottleneck [for mass vaccinations] will be in a few weeks time."
The rollout hit two serious setbacks this week.
On Friday, it emerged there would be a shortfall in the volumes of AstraZeneca's "game-changer" vaccine due to reduced yields in the manufacturing process. It was the first vaccine ordered by the EU in a contract for 400 million doses, and was due to be authorised next Friday.
The week had already started badly when delivery of the Pfizer/BioNTech vaccine was held up by the need to re-programme the Pfizer facility in Belgium so that capacity could expand in the second quarter.
The problem was exacerbated by the fact that Pfizer knew of the problem on 11 January, but only revealed the disruption last Friday.
"Many member states now have to reschedule vaccination appointments," says another senior EU official. "This is not the way it should work."
While the EU this weekend will be assessing the AstraZeneca setback, Italy is already threatening legal action against Pfizer. The German health minister Jens Spahn described the late communication as "upsetting".
Some member states are set up to receive the vaccine doses only on certain days, so if the delivery schedule gets disrupted that can hit the rollout operation badly. The Czech prime minister Andrej Babis said: "It means huge complications for us."
Some countries – Ireland included – kept buffer supplies and managed to withstand any major difficulties.
Pfizer has promised to make up for the setback. "We've explored innovative ways to increase the number of doses we're able to supply this year, and we now believe that we can potentially deliver approximately 2 billion doses by the end of 2021," the company said in a statement.
One senior EU figure acknowledged: "In fairness to Pfizer, the dip was because they had to ramp up production, and that was because Europe ordered an extra 300 million doses."
The distribution of vaccines across the EU will be on average hitting 92% over this week and next. The 8% shortfall will be made up on the week beginning 15 February.
However, the rollout has also been complicated by the issue of how many doses can be extracted from a vial.
The Pfizer vaccine is dispensed in cartons, resembling pizza boxes, and initially each box would contain 4,875 doses on the basis that one vial held five doses.
However, it emerged as countries began vaccinating that there was often a dose left over.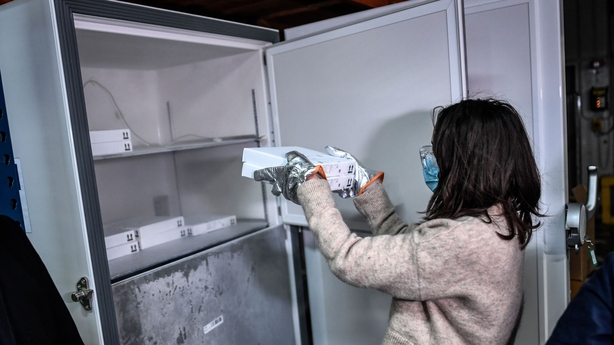 The World Health Organization (WHO) and the European Medicines Agency (EMA) duly acknowledged the potential for a sixth dose in each vial. But this led to confusion: were countries getting an extra dose for free? Not so, says the Commission: the contract with Pfizer stipulates that every dose has to be paid for.
There have been disputed claims that extracting the sixth dose requires a specialised syringe. Officials say that not all member states have asked for such syringes, and in any case they are still getting five "good" doses per vial.
However, it is clear that the rollout across Europe so far has not been a cause for celebration.
The vaccination tracker produced by Our World in Data shows that by 20 January, the UK had vaccinated 8.01 people per 100, compared to next best performer Malta at 3.47, Denmark at 3.21 and Ireland at 2.47.
With Europe seemingly being left behind by the UK and Israel, the debate quickly became highly political and a harsh spotlight was shone on the EU's role in bulk purchasing vaccines.
German politicians claimed the European Commission had not bought enough doses, or, under pressure from Paris, had favoured the French producer Sanofi.
However, senior EU officials have flatly denied this, and are adamant they secured all the doses that were on offer.
When the pandemic broke last year, Germany, France, the Netherlands and Italy set up the Inclusive Vaccine Alliance in order to boost their purchasing potential and to try to keep vaccine production in Europe.
At the time, all the focus was on the AstraZeneca/Oxford vaccine.
However, the EU decided in June that the European Commission should act as one agent in bulk buying vaccines for all 27 member states and the Inclusive Vaccine Alliance's efforts were folded into the new approach.
The imperative was to avoid member states competing against each other, and to ensure all member states got enough supplies at a more competitive price.
Irish officials insist that, as a small member state in a free-for-all, Ireland would not have got the doses it needed at the right time, in the right quantities and at the right price. "We'd never get these prices or that quantity if we were competing with 26 other member states," said one senior Irish figure.
In the event, across the portfolio of vaccines, the Government expects to have enough doses to vaccinate 8.3 million people, through single- or double-dose vaccines.
Back in June, the Commission and member states set up a Steering Board to manage negotiations with the pharmaceutical companies. There was a febrile atmosphere, given the urgency to halt the pandemic in its tracks, the huge amounts of money involved, and the fact that member states jealously guard their competences when it comes to public health.
There were also potentially 165 vaccines to choose from. While the lead candidates – Pfizer/BioNTech, Moderna, AstraZeneca – are now household names, back then officials said it was like buying lottery tickets.
"It's a bit like going to a horse race and you bet on a couple of horses, and afterwards someone comes along and says, it was very clear that this horse would win, why didn't you bet much more on it?," said one senior official.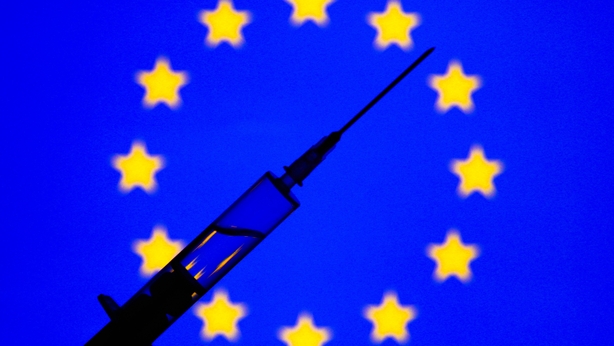 EU negotiators were desperately trying to decide which horse to back.
"I remember dozens of calls where everybody was saying, AstraZeneca is the one which is going to come out first and be the most successful," recalled a senior EU official. "Look at where we stand now."
Officials were under pressure from member states, who in turn appeared to take a liberal approach to the EU funds deployed to secure the contracts, under the Emergency Support Instrument (ESSI).
"They knew we could afford [to take a] risk with the vaccination strategy," remarks one official. "Perhaps we could put money on companies for things that will never occur. No member state would ever have bought mRNA [on its own]."
In the event, EU negotiators entered contracts with eight companies. A key issue was indemnity in the negotiations: who would be on the hook if the vaccines turned out to be unsafe?
Liability normally rests with pharmaceutical companies, yet they were being asked to produce vaccines at breakneck speed. EU officials insist they ensured that liability would rest with the companies. In a contract for one of the cheaper vaccines, both sides agreed that member states would pay for legal costs if there was a problem. Apart from that, national capitals would remain indemnified from legal action.
But what if the Commission had backed a whole range of vaccines and they all turned out to be successful? The EU would then be saddled with a massive and expensive surplus of doses. While the Commission had made provision to pass those on to vulnerable countries, the terms of the contracts meant that indemnity only applied within the EU region.
The next problem was getting authorisation, once human trials started producing favourable results.
The EMA has come under intense pressure to speed up authorisation. Member states are entitled to issue emergency authorisations themselves, but that, according to the EU's chief negotiator Sandra Gallina, would have nullified the indemnity clauses.
While the EMA is independent of the European Commission and national capitals, member states are entitled to speak to the people who decide on authorisation because they are themselves the national experts who make up the EMA.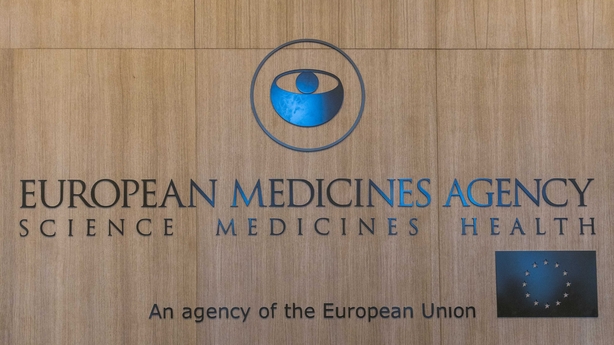 "National experts have a lot of responsibility in approving vaccines because we are vaccinating healthy people," says one Commission source. "So, if there is anything in the process that could later come out, that there are decisions taken that shouldn't have been taken, there is a big question of liability there. So I can completely understand that the experts are taking some time to [authorise]."
The AstraZeneca vaccine is expected to be authorised by the EMA on 29 January. Despite the news on Friday about a shortfall in supplies, this is seen as the game-changer vaccine in terms of ease of storage and handling.
Officials are looking at ways to shorten the hiatus between authorisation and distribution, which normally takes two weeks. Under EU law, batches of medicines are highly regulated and cannot normally leave a production facility until authorisation is approved.
There are discussions around a short term derogation to that rule, so that millions of doses could be moved to a departure lounge scenario for faster distribution. That would need to be in sync with the company's own systems, and might win no more than a week (perhaps a not insignificant gain, given the urgency).
Whatever workaround is agreed, the outlook for Europe is now painfully poised between preventing the wholesale spread of the new UK, South African and Brazilian variants, and overcoming the first half of January problems in the vaccine rollout.
Diplomats and officials say there will be a big difference in the second quarter rollout.
"We always knew January and February would have low volumes," said one senior source. "But it really does pick up after AstraZeneca gets its authorisation, then hopefully Johnson & Johnson, and then the increased doses from Pfizer/Biontech. Then you're into an issue of logistics and fridges, as opposed to supply."
The European Commission believes that member states should therefore be able to vaccinate 70% of the adult population by the summer, and 80% of healthcare workers and the over-80s by the end of March.
While there were reports of eyebrows being raised in national capitals, it appears that during the video call EU leaders largely agreed that the target was ambitious but achievable. "There was support for the 70% target," said one senior EU figure. "No one said they couldn't hit 70%."
One senior EU official closely involved observed: "The people I deal with are concerned with health, not money. They look at people dying in ICUs, having doctors who need to choose who to put under a ventilator, so what they want is to vaccinate fast. Variants are normal, but variants can multiply much faster if we don't have vaccinated people."
The new variants have certainly added a dose of urgency. On Friday, the European Centre for Disease Prevention and Control (ECDC) increased the risk level associated with the new variants to "high/very high".
"Such an increased transmissibility is likely to lead to an increased number of infections," the ECDC reported. "This, in turn, is likely to lead to higher hospitalisation and death rates across all age-groups, but particularly for those in older age groups or with co-morbidities."
With mass vaccinations still several weeks away, the ECDC says "national authorities should rather be ready to enforce even stricter measures".
As such, officials have been looking to the recent Irish experience.
"We've had very close contact with Ireland," said one EU official. "Ireland has had very dramatic figures in the past weeks. Whether this is solely linked to variants or other factors, I think experts are still debating. But we have been looking very closely at Ireland and the President [Ursula von der Leyen] has spoken a number of times to the Taoiseach on these matters."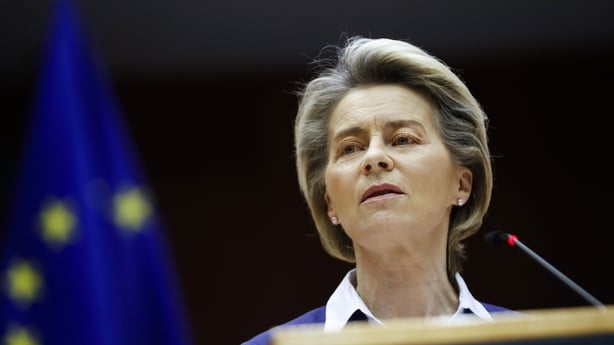 During the leaders' call, Micheál Martin outlined Irish efforts in getting the numbers down since Christmas, including shutting down large parts of the economy. He pressed home the message that restrictions do work and the sheer scale of infections persuaded people to adhere to the rules.
It's understood the German chancellor and Spanish prime minister listened intently. Both countries are said to be worried about the sheer transmissibility of the new variants and the kinds of lockdowns that would be needed to suppress them.
"When we see some of the numbers from the UK, especially with the new variant, you see an almost vertical curve," says one senior official. "That will inevitably result in more deaths. A lot of the lockdown measures the UK has taken have been much less effective against the variant, so you would have to go to much tougher lockdowns to get the curve down. The economic consequences of these very tough measures would be significant."
Once again, Europe is having to weigh the risks of a deepening pandemic and the threat to the economy.
Keeping the single market open will require tighter coordination of measures at member state level and those have not always been possible. When the pandemic struck last year, member states closed their own borders leaving commuters stranded and creating tailbacks of goods lorries.
The ECDC has warned against any non-essential travel, but while a travel ban inside the EU is unlikely for now, a ban on travel from outside looks highly possible. Inside the bloc, officials are considering the idea of a new "dark red" designation if new variants prompt a sudden spike in infections.
However, President von der Leyen warned of the need to ensure frontier workers can still cross borders. Luxembourg, for example, relies heavily on health workers who live across the border in the Netherlands or France.
Von der Leyen also warned that if you have two highly infected regions next to each other and one has a hard lockdown and the other doesn't, then people from the lockdown region will naturally cross the border to go shopping.
Leaders also discussed the idea of a vaccine certificate that is recognised across member states and beyond. Greece, in particular, is pushing for a document that would show proof of vaccination in the hope that this year's tourist season is not lost.
Creating a widely recognised vaccine certificate is certainly doable given that the WHO has for years authorised yellow documents for a number of vaccinations, including yellow fever.
However, it is still not clear if getting vaccinated means you're no longer likely to spread the virus.
Leaders are also reluctant to create a privileged class of people who, because they have been vaccinated, can enjoy a higher standard of living and mobility, compared to those either cannot get vaccinated or who have legitimate reasons for not doing so.
For now, a vaccine certificate is being seen strictly as a medical document, and not a passport.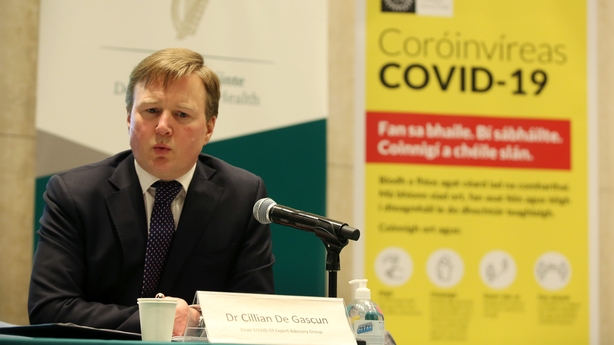 Meanwhile, the big focus is on more antigen testing and whole genome sequencing of positive Covid tests. The Commission has recommended a target for the latter of between 5%-10% as the best way to understand and control new variants.
Ireland has been doing whole-genome testing for the UK variant since before Christmas – and it now accounts for 60% of Irish cases, so there is arguably little to be gained by continuing this work.
"Now we're targeting people coming from South Africa, from Brazil and South America with a view to detecting cases of the other variants," explained Dr Cillian de Gascun, director of the National Virus Reference Laboratory (NVRL) in UCD.
"We believe that with the timing, given the numbers, with the traffic we have from those countries, the lack of direct flights, we can contain those cases quite quickly."
Dr de Gascun believes that between the health service, universities and private diagnostic companies, both in Ireland and in Europe, Ireland can meet the target of 5%-10% of genome sequencing.
However, knowing all there is to know about new variants may not be a substitute for the hard political decisions Europe may need to take. These may well include stricter lockdowns and travel bans.
It may be the final hard push that is needed while a fretful population awaits the mass vaccinations that have been promised, but have simply not yet happened.