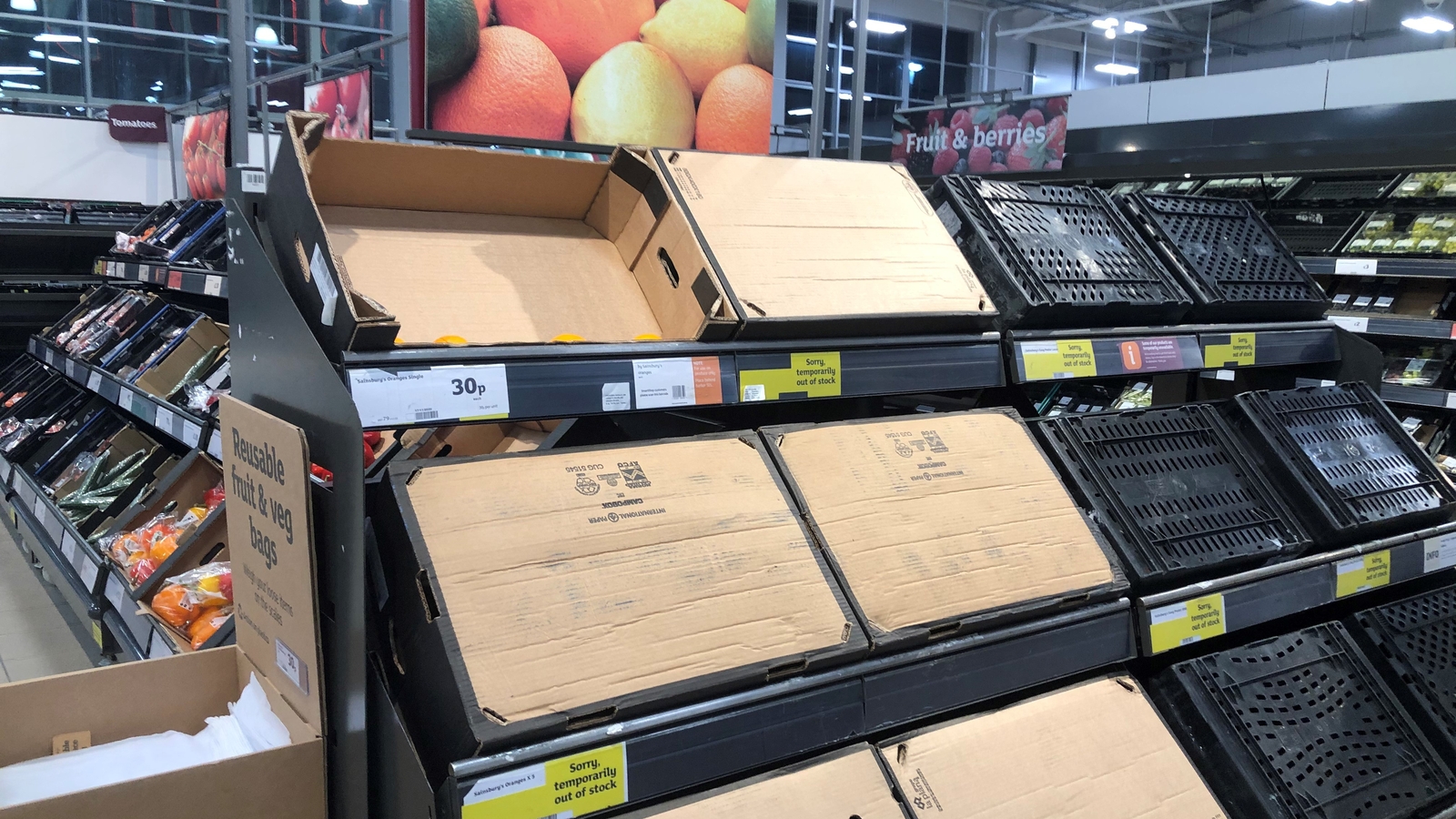 Northern Ireland Secretary of State Brandon Lewis has said any empty shelves in Northern Ireland are due to coronavirus issues and not because of Brexit.
He told Sky News: "The unfettered access was always about Northern Ireland businesses into Great Britain – yes there is.
"The flow of food and goods linked to the EU and the Northern Ireland Protocol has been good actually.
"Where we've seen some images of empty shelves in Northern Ireland – although let's be clear we've seen them across the UK recently – has been linked to Covid and some of the challenges we've had at Dover due to Covid just before Christmas and the flow through the supply line of that rather than through the protocol.
"Supermarkets we've been talking to regularly have good flows of supply and that's important to Northern Ireland, being an integral part of the United Kingdom."
Last week Northern Ireland's Agriculture Minister the DUP's Edwin Poots said he envisaged a major crisis when a short-term grace period limiting the amount of red tape required to move retail food products from Great Britain to Northern Ireland runs out at the end of March.
---
---
Mr Poots said suppliers to both hospitals and schools had warned that if the current arrangement for supermarkets is not extended they will not be able to supply hospitals and schools with food.
Alliance Party MP Stephen Farry accused him of "scaremongering on steroids" saying "there's no prospect that we're going to see a complete collapse of the food supply in Northern Ireland, it's just not going to happen."
Once the exemption expires supermarkets will have to comply with more rigorous animal health certification processes under the terms of Brexit's Northern Ireland Protocol.
At that time a spokeswoman for Northern Ireland's Department of Health said the Business Services Organisation, which supplies hospitals, had signed food contracts that will also allow for flexibility and substitution – for example, a move from fresh to tinned or frozen for example should that be required.
Retailers in Northern Ireland urged shoppers not to stockpile after problems with supplies left many shelves empty.
Smaller retailers said they fear months of disruption because of confusion about arrangements for importing food products from Britain following Brexit.
The British government has set up a special team to work with supermarkets trading in Northern Ireland which are having difficulties with deliveries.
Among the stores affected are those owned by Tesco, which has reported disruption of some supplies to its stores in Ireland since 1 January when the post-Brexit trade deal with the EU came into force.