There are some "early signs of hope" in the number of Covid-19 cases being reported daily, as well as in the positivity rate for Covid tests, the Chief Medical Officer has said.
However, Dr Tony Holohan has warned that "we have a long, long way to go" and are likely to see worsening "hospitalisations, admissions to ICU and mortality" in the coming weeks.
Dr Holohan made the statement as the Department of Health reported 63 more Covid-related deaths.
Five of the deaths occurred in November, and one in December, with the remainder this month.
The Department has also been notified of 3,569 new cases of Covid-19.
There have now been a total of 2,460 Covid-related deaths in Ireland, and 159,144 confirmed cases.
133 people with the virus have been hospitalised in the last 24 hours, taking the total number of patients in hospital to 1,770. The number of people in intensive care stands at 176.
More than 1,000 of the new cases reported today are in Dublin, with 1,119 cases confirmed there.
There are 416 cases in Cork, 200 in Galway, 182 in Louth, 169 in Waterford, and the remaining 1,483 cases are spread across all other counties.
The median age of those who tested positive is 42, and 54% are under the age of 45.
The national 14-day incidence rate per 100,000 people now stands at 1448.8.
The counties of Monaghan (2738.4), Louth (2322) and Limerick (2068.3) have the highest rates in the country.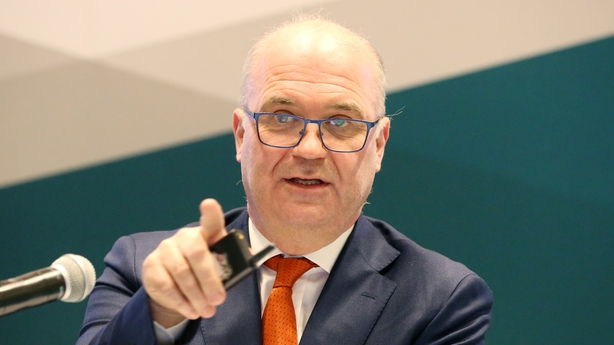 Dr Holohan said we "can take some hope" in the case numbers and positivity rate, but cautioned that "we have a long, long way to go".
He reiterated his warning from yesterday that we can "expect to see hospitalisations, admissions to ICU and mortality related to Covid-19 increase day on day" in the coming weeks.
The CMO also repeated his appeal for people to support each other by staying apart.
---
---
"To ensure our hospitals and loved ones remain protected, and stay alive to receive the vaccine, please continue to follow public health advice and stay home," he said.
Meanwhile, health workers who are deemed close contacts of a positive Covid-19 case but who have received a negative test have been called back to work in the health service.
Health Service Executive Chief Operations Officer Anne O'Connor said these close contacts were being monitored while at work by occupational health experts and having their temperature checked twice a day.
She said the decision was made due to the shortage of healthcare workers.
The Irish Nurses and Midwives Organisation has called for all private hospital capacity to be fully nationalised into the public healthcare system, to deliver additional beds and staffing over the coming weeks.
The 40,000 strong union described the health service as being under "unprecedented" pressure, and noted that current Government plans only provide for the use of one third of private hospital capacity.
Minister for Health Stephen Donnelly told the Dáil that the Government plans to have 700,000 people vaccinated by the end of March.
This would vaccinate the top three groups on the prioritisation list – those in long-term residential care (staff and residents), frontline healthcare workers, and those aged over 70.