The Department of Health has announced 60 more Covid-related deaths. Of the notified deaths, 59 deaths occurred in January and one death occurred in December.
There has now been a total of 2,595 Covid-19 related deaths in Ireland.
The median age of those who died was 85 years, and the age range was between 65 to 100 years.
A further 3,231 new cases of the virus have been confirmed, it takes the total number of Covid cases in Ireland to 169,780.
Of the cases notified today, 1,465 are men and 1,712 are women, 54% are under 45 years of age and the median age is 42 years old.
The breakdown of today's cases is: 931 cases in Dublin, 388 in Cork, 238 in Louth, 155 in Waterford, 151 in Limerick, and the remaining 1,368 cases are spread across all other counties.
As of 2pm today, 1,854 people were in hospital with Covid-19, of which 191 are in ICU.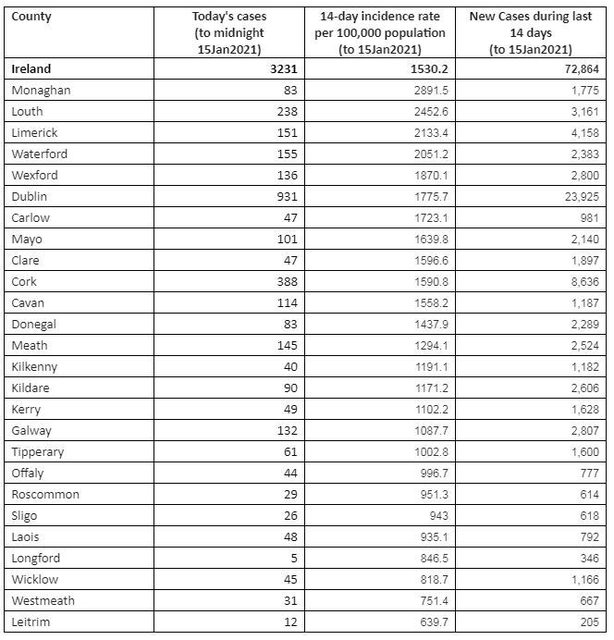 Chief Medical Officer Dr Tony Holohan said: "This virus has taken root in every single part of the country. A significant percentage of the population – in excess of one in 10 in some counties – is currently either a case or a close contact. This is a huge burden of infection.
"When you consider that a significant percentage of our daily cases will directly lead to hospitalisation and mortality, the urgency with which we need to act becomes clear.
"The improvements in cases is not happening fast enough. Too many people are still not complying as fully as we need with the advice. There are early indications that we may be levelling off in terms of improvement, but at far, far too high a level of infection.
"The UK variant is very likely making our challenge more difficult. Please follow the public health advice. The safest place at the moment is at home. Please stay at home," said Dr Holohan.
In Northern Ireland, a further 22 coronavirus deaths have been recorded, 17 of them occurring during the past 24 hours. It takes the official Department of Health toll to 1,581.
A further 705 new cases have been confirmed. It takes cumulative number of positive tests to 94,539.
There are 840 confirmed patients in hospital, with 62 in ICU and 45 of them on ventilators.
The average seven-day infection rate per 100,000 for Northern Ireland is 374.7, the lowest figure since 29 December.
The council area with the highest rate remains Armagh, Banbridge and Craigavon on 623.8, followed by Mid Ulster on 575.5.
The lowest rate remains North Down and Ards council area with 202.6.
In the Republic, the Chief Executive of the HSE has said the hospital system is tightening up as the numbers being treated for Covid-19 increases.
Speaking on Saturday with Katie Hannon, Paul Reid said: "We have formally gone into surge capacity.
"We are seeing families and young people being treated. This virus affects everybody.
"In terms of beds, we now have 313 available beds, up from 285 before surge capacity."
Meanwhile, around 1,800 frontline medical workers are receiving a Covid-19 vaccine as part of a targeted vaccination programme this weekend.
GPs and GP practice nurses are being administered their first dose of the Moderna vaccine. It is the first time it has been used in Ireland.
Vaccination centres have been established in counties Dublin, Laois and Galway.
80 people investigated over lack of test on arrival into Ireland
Meanwhile, new figures obtained by RTÉ programme Saturday with Katie Hannon reveal that since travel restrictions from South Africa and the UK came into effect on 9 January, approx 80 cases where passengers did not produce a PCR Covid result have been investigated by the gardaí and in each case a file will be referred to the DPP.
The 80 or so people who have had their case referred to the DPP represents fewer than 2% of the total cohort who have arrived into the State from Great Britain or South Africa since these regulations came into effect.
In many of these cases, the passenger would have booked their travel prior to the regulations taking force and/or would not have been in a position to avail of a Covid test prior to travel.
An Garda Síochána anticipates that, as the public awareness of these regulations increases, the level the non-compliance will reduce. For example, there were fewer than five cases referred to the DPP on Thursday 14 January.