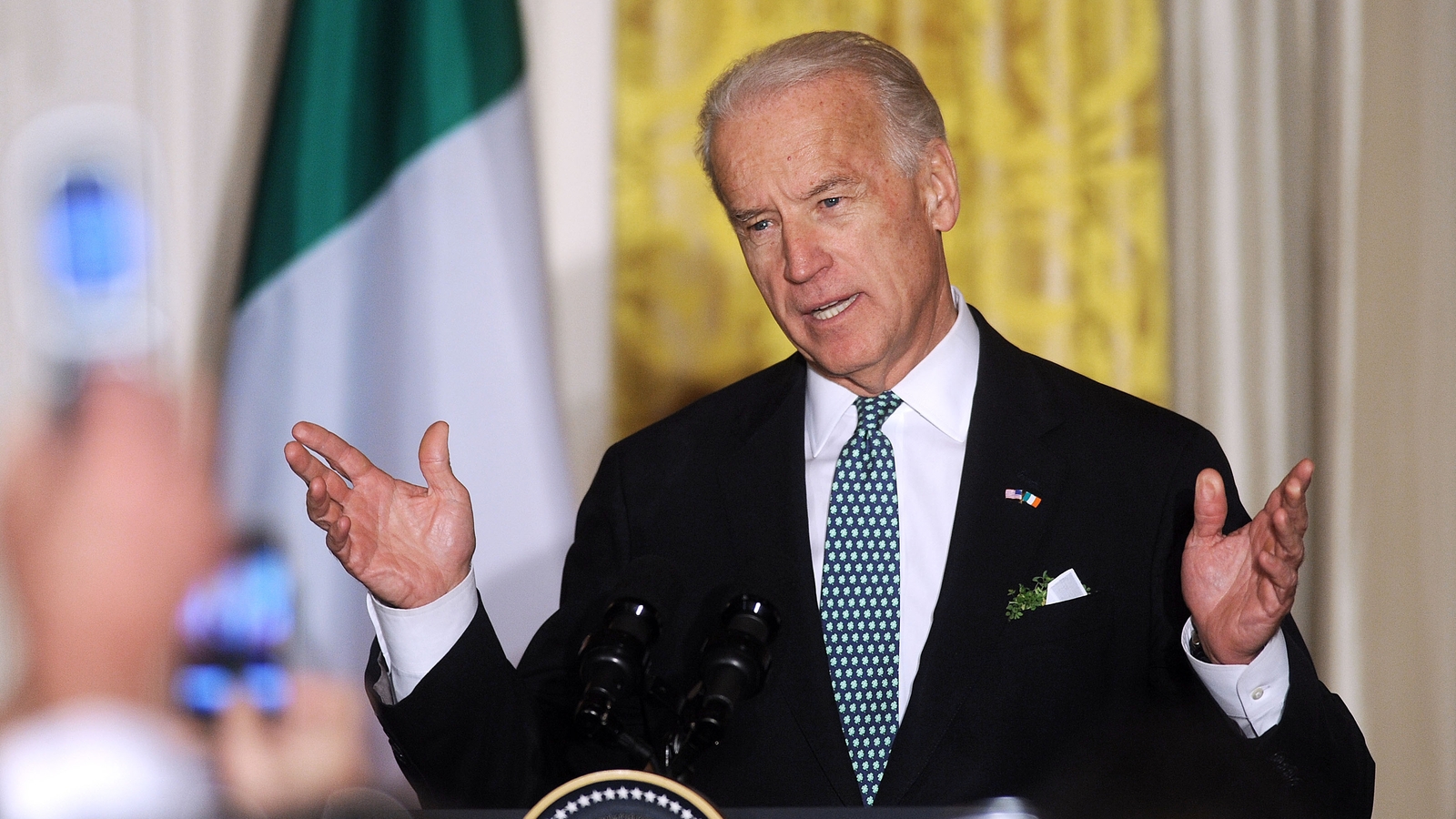 Joe Biden will be a "true friend of Ireland", Taoiseach Micheál Martin has said, as he celebrated the new US President's ancestral links to the country.
"Today a true friend of Ireland, Joe Biden, became the 46th President of the USA," Mr Martin said on Twitter.
"It is a day of history and hope and I look forward to forging ever closer ties between our two great nations."
Mr Martin also paid tribute to Vice President Kamala Harris, saying she had created history and "will help form a diverse and formidable administration".
Ms Harris is the first woman to become vice-president, as well as the first black person and the first person of South Asian descent to serve in the role.
"There can be no greater honour than to be given the trust of one's fellow citizens to lead."

President Michael D. Higgins has written to President Joe Biden, offering his "heartfelt congratulations" as @JoeBiden assumes the office of President of the United States. pic.twitter.com/grdf6hBVYN

— President of Ireland (@PresidentIRL) January 20, 2021
In a statement Mr Martin added: "I know that President Biden will feel the weight of history, the presence of his Irish ancestors who left Mayo and Louth in famine times in search of life and hope.
"He will remember their descendants' hard struggle as they made their way in and their contribution to the United States. It is the story of Irish-America.
"I hope he will also be conscious of the great pride we in Ireland take in his immense achievement. He is one of us, part of our global family.
"I look forward to welcoming President Biden back to this island and deepening cooperation on global peace, climate change, economic partnership and stability."
Other world leaders have also offered their congratulations to the new president and his administration.
British Prime Minister Boris Johnson said he was looking forward to working with the Democratic successor to Donald Trump.
Mr Johnson said America's leadership is "vital" to the rest of the world, from tackling the climate crisis to the coronavirus pandemic, as Mr Biden took the oath of office during a ceremony at the US Capitol.
Congratulations to @JoeBiden on being sworn in as President of the United States and to @KamalaHarris on her historic inauguration. America's leadership is vital on the issues that matter to us all, from climate change to COVID, and I look forward to working with President Biden.

— Boris Johnson (@BorisJohnson) January 20, 2021
Israeli Prime Minister Benjamin Netanyahu has urged Mr Biden to "strengthen" a long-standing alliance between the two countries, partly in order to confront the "threat" posed by Iran.
"I look forward to working with you to further strengthen the US-Israel alliance, to continue expanding peace between Israel and the Arab world and to confront common challenges, chief among them the threat posed by Iran," he said.
Canadian Prime Minister Justin Trudeau said he looked forward to working with the new president to fight Covid-19 and climate change.
In a statement, Mr Trudeau said the two countries "will continue this partnership as we fight the global Covid-19 pandemic and support a sustainable economic recovery that will build back better for everyone".
"We will also work together to advance climate action and clean economic growth, promote inclusion and diversity, and create good middle class jobs and opportunities for our people while contributing to democracy, peace, and security at home and around the world," Mr Trudeau said.
There is no time to waste when it comes to tackling the crises we face. That's why today, I am heading to the Oval Office to get right to work delivering bold action and immediate relief for American families.

— President Biden (@POTUS) January 20, 2021
European Commission President Ursula von der Leyen has said she looked forward to having a friend in the White House
She said she hoped Mr Biden could work with Europe on fighting climate change, quashing the Covid-19 pandemic and rebuilding multilateralism.
Meanwhile, Russia has urged President Biden's new administration to take a "more constructive" approach in talks over the extension of the New START treaty, Washington's last arms reduction pact with Moscow.
"We expect that the new US administration will take a more constructive approach in its dialogue with us," the Russian foreign ministry said in a statement.
"We are ready for such work on principles of equal rights and taking mutual interests into account."
Pope Francis told President Biden that he was praying that God would guide his efforts to bring reconciliation in the United States and among the nations of the world.
In a message sent shortly after the second Catholic US president was sworn in, Francis also said he hoped Mr Biden would work towards a society marked by true justice, freedom and respect for the rights and dignity of every person, especially the poor, the vulnerable and those with no voice.