In the space of just two weeks, America has been through what the President-Elect Joe Biden has called an "insurrection" at the Capitol building and the impeachment of the current President Donald Trump for an historic second time.
Now those events and the ongoing threat to security, coupled with the Covid-19 pandemic mean next Wednesday's inauguration of the 46th president of the United States will look and feel very different to any that has gone before it.
"It's really been a rollercoaster," says Bob Schmuhl, Professor of American Studies at the University of Notre Dame.
"January 6th, we have an insurrection, January 13th, we have an impeachment, January 20th, we have an inauguration. You can't script that stuff and I wouldn't want to ever again."
Here are five ways that next week's inaugural events will be different from years gone by: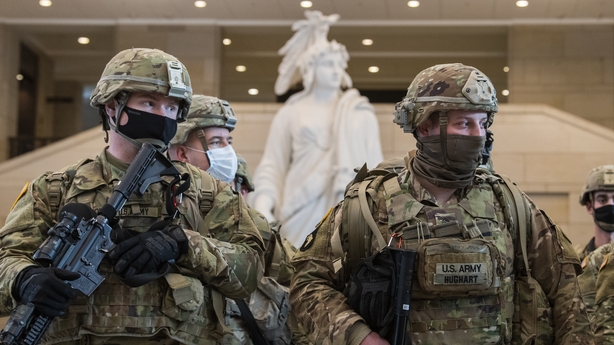 1. Heightened security
Since last week's storming of the Capitol building that stands at the heart of US democracy, at least 20,000 National Guard troops have been deployed in the city of Washington DC where they are reported to be working 12-hour shifts to ensure there is security around the clock.
"We know who you are, if you're out there, and FBI agents are coming to find you"
President-Elect Joe Biden has told reporters that he is "not afraid of taking the oath outside", on the West Front of the US Capitol as usual. However, the scene where last week's chaos unfolded is now expected to be surrounded by high security and bullet-proof glass.
FBI Director Christopher Wray told a special briefing this week for the outgoing Vice-President Mike Pence: "We're looking at individuals who may have an eye towards repeating that same kind of violence that we saw last week.
"From January 6th alone, we've already identified over 200 suspects. So, we know who you are, if you're out there, and FBI agents are coming to find you."
A rehearsal of the inauguration planned for this Sunday is reported to have been postponed and the perimeter of a high fence around the Capitol building has now been pushed out to encompass the US Supreme Court and the Library of Congress.
Nearby roads have been closed and the city's public transportation agency began closing certain metro stations and rerouting bus lines from yesterday.
Many businesses will shut up shop next week and all tours of the Washington Monument, an obelisk honouring the country's first ever president have been suspended due to safety concerns.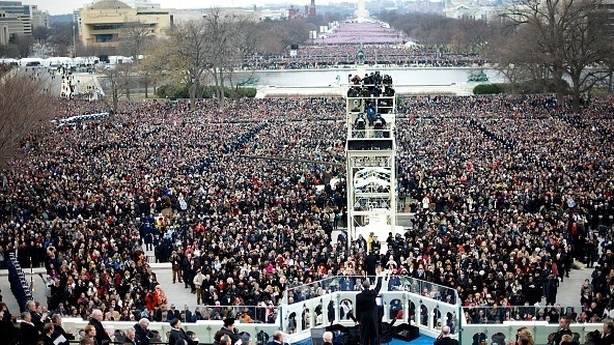 Gil Kerlikowske, the former chief of police in Seattle and Buffalo and former commissioner of US Customs and Border Protection, believes the heightened security should mean that the event itself is protected.
But he told RTÉ he is most concerned about the warnings of possible political violence elsewhere in the country, which according to an internal FBI document could begin as soon as this weekend.
There have already been disturbances on flights and at airports and officials have warned of plans for armed protests in Washington and all 50 states.
"I think there's a lot of concern, especially as State Capitols don't have quite the resources and, frankly, they're not used to this level of prepared security," says former commissioner Kerlikowske.
"I think it's important that he [Joe Biden] gets sworn in and that she gets sworn in on the steps … I think it's important for the visual of that, but actually, it will be much more sparsely attended"
"There are a number of state Capitols in which they can actually as citizens be armed and still go into the Capitol. I think it has the potential to cause some problems. Quite often in these protests, and it doesn't really matter what the affinity group happens to be, there's always a small number of people that are intent on creating havoc or even creating violence."
In Washington DC, Mayor Muriel Bowser has asked all visitors to stay away from the city and Airbnb has cancelled all of its bookings in the wake of last week's rioting. It said it had also identified "numerous individuals" associated with what it called "known hate groups" and banned them from using its platforms. Both hosts and guests will be reimbursed.
Mr Kerlikowske himself attended former President Barack Obama's second inauguration in 2013, and as police chief in Seattle, he, like other forces, regularly sent between 50 and 100 officers to beef up security on the day.
However, he believes things will be done very differently this year:
"I think it will be very different, and it would have been regardless of the violence, as a result of Covid. I think it's important that he gets sworn in and that she gets sworn in on the steps … I think it's important for the visual of that, but actually, it will be much more sparsely attended and I don't think they'll be walking down Pennsylvania Avenue, so it will be a very different inauguration, but an important one."
2. Low attendance due to Covid-19
Even before last week's events the inauguration ceremony was going to be scaled back due to the ongoing pandemic which has claimed over 390,000 lives there.
A presidential inauguration traditionally draws hundreds of thousands of people to Washington DC, but due to fears of it becoming a potential super-spreader event, it was already being scaled back from early on.
"There is a parade after the inauguration but the parade is virtual in itself, so this will be as much a television production as much as a national celebratory event"
The National Mall where thousands of people traditionally gather, will close to the public, but instead a massive public art display featuring 191,500 US flags and 56 pillars of light is being installed to represent every US State and territory, as well as the people who could not travel to attend.
However, unlike Donald Trump's last inauguration, where he was famously turned down by some high calibre performers, this inauguration will see pop royalty Lady Gaga singing the national anthem during Joe Biden's swearing in ceremony. Jennifer Lopez will also be performing at the largely virtual event.
Professor Bob Schmuhl expects the inauguration to be very similar to the Democratic National Convention
He said: "The emphasis will be on visual activities … there is a parade after the inauguration but the parade is virtual in itself, so this will be as much a television production as much as a national celebratory event."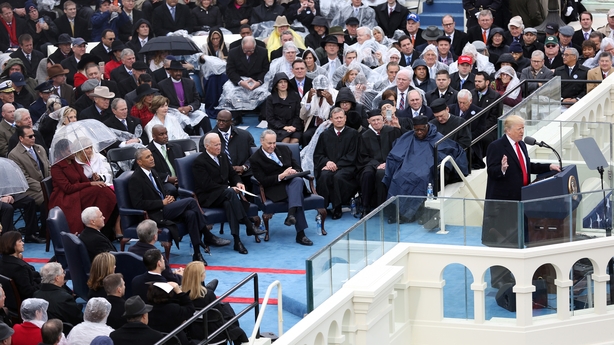 Joe Biden's inaugural committee has announced a total of five days of programming under the theme "America United," which it says "will honour inaugural traditions, whilst safely allowing more Americans than ever to participate from their own homes."
Tom Hanks will host a 90-minute "Celebrating America" inauguration show which will also host performances from Jon Bon Jovi, Justin Timerlake and Demi Lovato.
"This will be an event that the public in America will partake in only through the medium of television. People will be watching on their computers," says Bob Schmuhl.
"I was reading up on the entertainment programme in primetime. The mainstream networks are carrying it and Fox is not, so we get into the political dimension of communication, even for a national event like an inauguration. Fox say they will cut into their programming when the new President and the Vice-President speak during the evening but they're not going to carry the other elements."
"President Trump's non-attendance at the inauguration sort of forces the media to go where he is"
For those who have planned to take their home viewing to the next level, the inaugural committee has been selling deluxe party boxes for $105 a pop, which include engraved champagne flutes, cardboard cut outs with Joe Biden and Kamala Harris's faces and a face mask emblazoned with the number '46' to welcome the incoming president. They have already sold out online.
3. The Trump effect
In a major break with tradition, the sitting President Donald Trump will not attend Joe Biden's inauguration. He confirmed the much-anticipated snub in a Tweet earlier this month, before his account was ultimately suspended by the social media giant.
The last president to boycott the swearing-in ceremony for his successor was Andrew Johnson in 1869, who was also an impeached, one-term president. The outgoing Vice-President Mike Pence will attend in Mr Trump's place.
But even without his attendance on the day, the anticipated reaction of some of Trump's supporters along with his upcoming impeachment trial in the Senate mean he is never far from the headlines.
"He is something of a human news cycle," says Bob Schmuhl. "President Trump's non-attendance at the inauguration sort of forces the media to go where he is. Will they and will that divert attention away from the incoming president and what price will that cost the body politic?"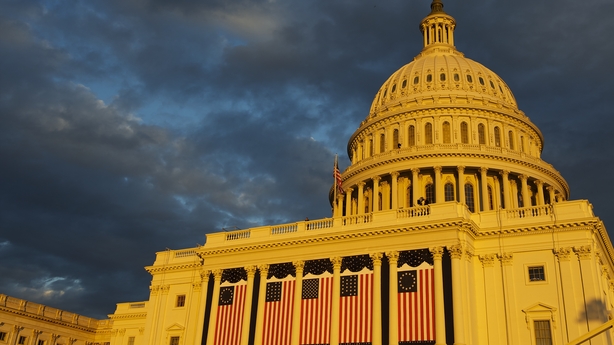 Nevertheless, he believes that Wednesday's inauguration, which will have a strong emphasis on unity and diversity, will also be a way to reconnect with presidential traditions, following Donald Trump's four-year term in which he had promised to drain the "Washington swamp".
"What is interesting is that after the inauguration, you are going to have the new President Joe Biden with Barack Obama, George W Bush and Bill Clinton go to Arlington National Cemetery to lay a wreath at the Tomb of the Unknown Soldier.
"That is symbolic for where it is taking place…. I think it's a symbol that Joe Biden wants to return to a tradition where the presidency has a continuity and people who have served in that office are part of a very select group who can and should get together to talk about issues, problems."
Some White House advisers are understood to have been urging the Republican president to smooth the transition of power by hosting Joe Biden for a White House meeting, ahead of Inauguration Day, but there has been no sign that Mr Trump is willing to do that, an administration official said.
4. One of the most Irish presidents
Not since John F Kennedy's inauguration in 1961 has there been a president with more links to Ireland."I don't think in any way shape or form that its false or made up or contrived. I think it's real. I think its genuine, I think its who he is," says Bob Schmuhl.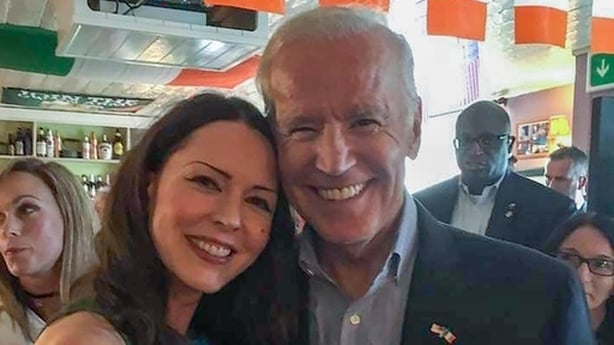 Ireland will be represented during the ceremony by the Irish Ambassador in Washington Dan Mulhall and his wife Greta.
On inauguration eve, the Embassy in DC is hosting a night celebrating the poetry of WB Yeats in whom the President-elect has a great interest, along with Seamus Heaney, whom he has regularly quoted in his speeches.
One of Ireland's top violinists, Patricia Treacy from Co Louth, is excited to be playing on the day.
She will be making the 14-hour journey from Chicago to Washington DC by car, along with a 315-year-old Stradivarius violin valued at $4 million. The bow alone in worth $800,000.
She will play at a private Mass for the Bidens before the inauguration itself, with only small numbers, including the immediate Biden family, expected to be in attendance.
Patricia said that even the new security concerns "won't take the shine off it".
She will have some added sparkle in the form of sapphires and diamonds that are being provided especially from the famous Hollywood jewellers to the stars, Kelly and Martin Katz.
The jewellery is designed to match a couture dress in the official azure blue colour of Ireland, but what she is most excited about is playing a 315-year-old Stradivarius violin.
She said: "I'm getting nervous now definitely, but I'm excited."
"To be honest I'm glad I'm not there now, but maybe down the line in the future months they'd like to have us back over"
One of Joe Biden's favourite bands The Chieftains will not be travelling to the inauguration as had been hoped for at one point.
The band had already had to call short their 2020 US tour and speaking from his Dublin home, the group's founder and leader Paddy Moloney said: "I think it would have been a huge job to get the whole band together for that, unless somebody had a private plane to bring us all over!
"Bruce Springsteen and ourselves are his favourite musicians but this terrible situation going around has put a dampener on it all.
"To be honest I'm glad I'm not there now, but maybe down the line in the future months, they'd like to have us back over."
As well as his links to Ireland, Joe Biden is also a Catholic and Jesuit priest Fr Leo J O'Donovan will deliver the Invocation. The long-time friend of the Biden family hails from Queens in New York and also presided over the funeral of Joe Biden's son the late Beau Biden in 2015.
The Benediction will be given by Reverend Dr Silvester Beaman, the Pastor of Bethel African Methodist Episcopal Church in Wilmington, Delaware who has also been a friend of the Biden family for nearly 30 years.
As well as being as a close confidante and friend of the President-elect, the inaugural committee describes him as a "consistent ally and community partner of his son, Beau, a decorated officer in the Delaware National Guard".
5. Another one-term president and a vice-president in waiting?
History will also be made next Wednesday when Joe Biden becomes the oldest president in US history to be sworn into office at the age of 78. This would make him 82, if he does seek a second term.
It is extremely rare for a president to enter office without aiming to seek a second term, but Professor Schmuhl says that this could be the case for Joe Biden.
"He himself has said that he is a transitional political figure. That he sees himself as really handing on public life to younger people. That certainly would involve his own Vice-President Kamala Harris," Prof Schmuhl said.
Kamala Harris, 56, will also make history as the first woman and with her Jamaican and Indian heritage, the first Black and Asian American to be elected as Vice President.
In a recent interview with NPR, she said last week's events at the Capitol building made it clear that the incoming administration will have a lot of work to do.
"I think we cannot yield to those who would try and make us afraid of who we are," she said.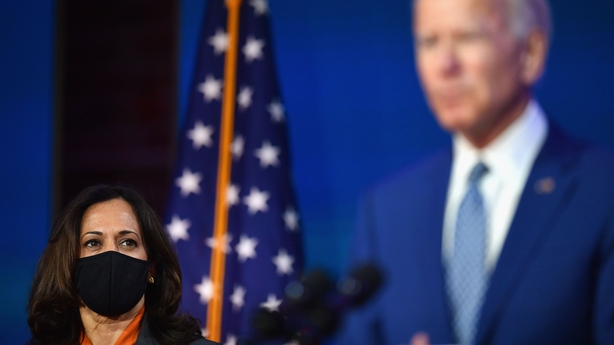 The countdown to Inauguration Day itself begins this week week and already represents a big departure from the tone set at Donald Trump's inauguration back in 2017.
Monday is Luther King Jr Day and a National Day of Service, whilst Tuesday will see a nationwide Memorial for all lives lost due to Covid-19.
The chief executive of the Presidential Inaugural Committee Tony Allen has said he hopes these events will mean "a new chapter in our American story, in which we are an America united in overcoming the deep divisions and challenges facing our people, unifying the country, and restoring the soul of our nation".
Sources have now reported that President Donald Trump is expected to delay his plans to leave Washington, until the morning of Inauguration Day.
He is reported to be planning a farewell event at Joint Base Andrews, outside Washington DC where Air Force One is headquartered.
The source told Reuters he will then fly on to Palm Beach, Florida, to begin his post-presidency at his Mar-a-Lago club, along with a handful of White House aides who plan to work for him there.