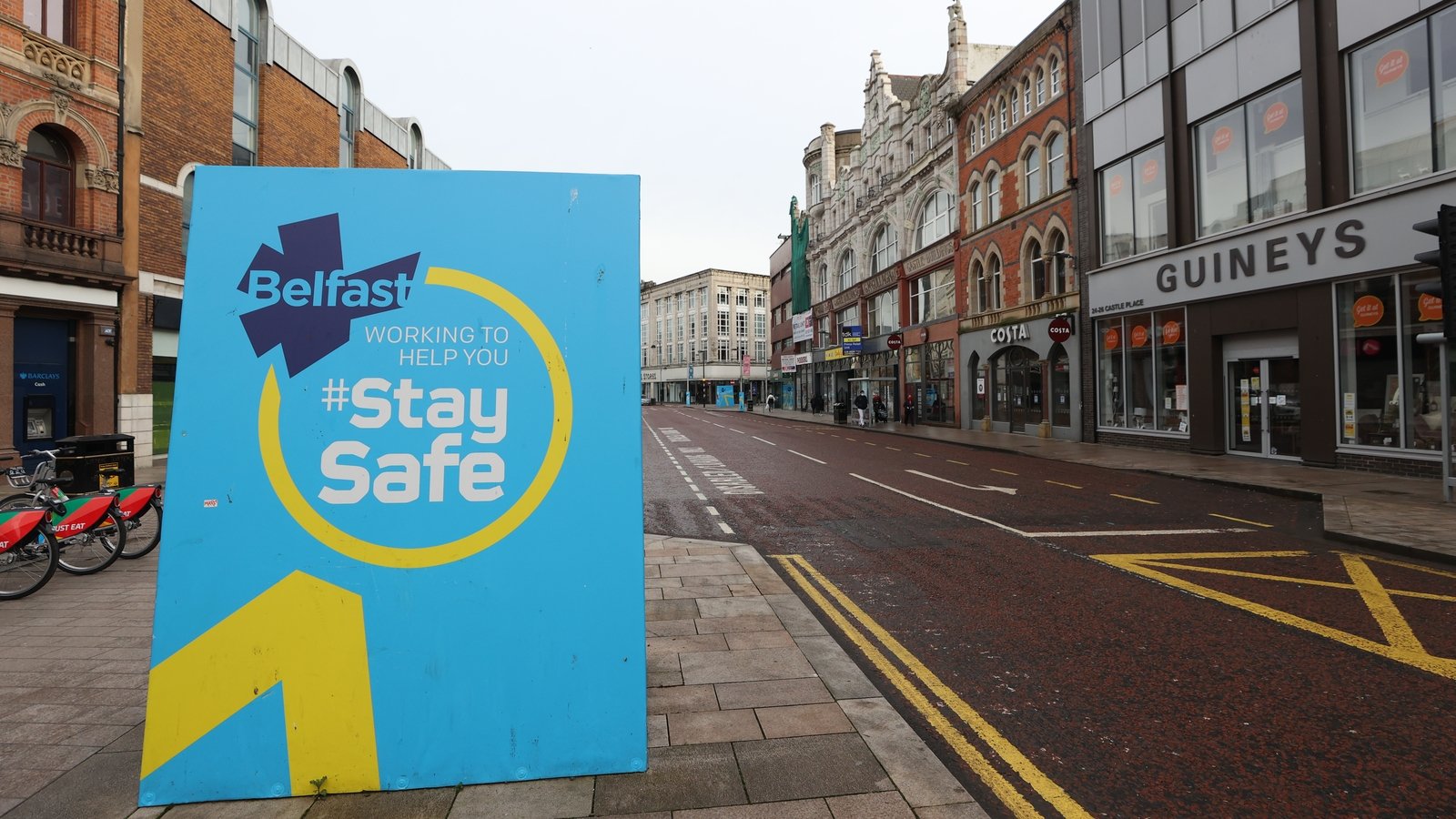 A further 19 coronavirus deaths have been recorded in Northern Ireland during the past 24 hours, taking the official Department of Health toll to 1,517.
There are 1,145 new cases from tests on 3,482 individuals. It takes the cumulative number of positive tests to 91,809.
The number of confirmed Covid-19 cases in hospital has risen significantly with 869 patients, an increase of 84 during the past 24 hours.
Of these, 56 are in intensive care units, 40 of whom are on ventilators.
Northern Ireland's chief scientific adviser Professor Ian Young said the average number of new cases of coronavirus had risen to more than 2,000 per day.
He said that while the number of cases is falling, they remain at a "very high level".
"Even now as we see the numbers, falling, getting lower, they remain at a higher level than at any time in wave one or wave two of this epidemic.
"So, what everyone is doing is working to reduce cases, but we still have a long way to go."
Health Minister Robin Swann said the restrictions in Northern Ireland are producing results, with the number of cases coming down, but "the challenge is to keep it there".
He said the measures will be kept under review and ministers "may well have some further challenging decisions to make by early February".
"We will have to avoid easing restrictions too early or too widely, the situation in our hospitals is too precious for that," Mr Swann said.
The minister added that more than 100,000 coronavirus vaccinations have now been administered in Northern Ireland.
---
---
Swann hails rapid virus test as 'encouraging'
A new rapid test for Covid-19 can return results in just 12 minutes, Mr Swann said.
The test could speed the passage of patients through hospital emergency departments.
A pilot programme has been carried out, the minister added, and "we should be encouraged by this."
Mr Swann said there had been many positive innovations across the health service.
He confirmed the new rapid test for emergency departments, the LumiraDX nasal swab, returned results in 12 minutes. It detects the Covid-19 antigen protein.
It will enable health staff to "very quickly identify patients who do not have Covid-19," Mr Swann added, and this will help decide what type of care to provide.
The Belfast Health and Social Care Trust has been one of five pilot sites across the UK to trial the test.
Academic selection test cancelled due to Covid-19 fears
A controversial academic selection test for primary school pupils in Northern Ireland has been cancelled amid coronavirus safety concerns.
The test run by independent provider AQE was scheduled to take place on 27 February.
AQE and another private company, PPTC, run several tests each year to facilitate grammar schools in selecting their intake of primary school pupils on the basis of academic performance.
Earlier this month both providers announced the cancellations of tests scheduled for this month due to the Covid-19 pandemic, having already postponed the exams from their traditional November slot.
But AQE's subsequent decision to reschedule a single exam for 27 February had caused controversy, dividing parties in the Stormont executive.
Sinn Féin, which is an opponent of academic selection, called for its immediate cancellation while the DUP, a supporter of selection, accused rivals of using the pandemic as a way to attack the process.
Today, AQE, which operates on behalf of 34 grammar schools in Northern Ireland, announced the test at the end of next month would not now take place.
"The health and safety of the children due to sit the exams is our top priority," its statement said.
Contingency criteria should be finalised soon by schools and will be published by Northern Ireland's Education Authority on 2 February.
Education Minister Peter Weir said the decision to cancel the test was disappointing.
He said transfer tests have never been compulsory for any school nor any student, but what they have provided for many has been parental choice and opportunity for children to gain a place at a post-primary school of their choosing.
"Today's announcement diminishes that choice significantly."
"Schools still have the opportunity to use either non-academically selective criteria or alternative data as a proxy for academic selection, but neither route is without its difficulties, and our previous guidance that they seek clear advice before they determine their course of action remains," Mr Weir added.