Please Support Boyle Traders of the Day:
Drumderrig Nursing Home : The Moorings Restaurant : Philippa's Hair Design : The Bazaar Coffee Shop : Skirma's Sewing Room
Adult tennis lessons
Adult tennis lessons starting tomorrow morning in Boyle.
A 6-week course of Wednesday morning adult lessons (starting Wednesday 12th May) at 9:30am for beginners or 10:30am for improvers. Lessons will be for 1 hour and the cost will be €40 (members) €50 (non-members) for the 6 weeks. If interested please text tennis coach Tim Clarke (0831155374) to put your name down. Places will be limited in line with relevant restrictions.
Two premises on St. Patrick Street …
"We are looking for windows, ledges, frames, signage to be cleaned every second week.
Please contact by email: Info@spcireland.com"
Roscommon Herald 11th May
Weather
TODAY – TUESDAY 11TH MAY: Scattered heavy showers will develop through the day, with the risk of hail and spot flooding. Similar temperatures to recent days with afternoon highs ranging 11 to 15 degrees
The 8 at 8 Tuesday
EVERY MORNING, The Journal brings you all the news you need to know as you start the day.
Read More >>
Stride-Beyond Coaching
Boyle Chamber of Commerce – reopening best wishes
Boyle Chamber of Commerce wishes all businesses and services that are returning to normal trading every success on your re-opening. To those of you who cannot yet open up fully, we hope it won't be long until you can.
There are many supports available to businesses arising from the unique circumstances of Covid-19 and these are continuously evolving.
Devine and Company, Accountants have advised the below as being the most useful and up-to-date websites. Each of you may be impacted in different ways and the supports have certain timeframes and various criteria to satisfy.
You can also seek advice and guidance from your own Advisors or Local Enterprise Office in Roscommon.
Best Wishes for a safe opening.
The Toon Team – Longford Wedding
Ladies football
Ladies football returning this Monday 10th May from 8pm-9pm at Boyle Celtic Astro pitch.
EVERYONE welcome – no experience necessary, even if you've never kicked a football in your life or just in years, it's a lot of fun and some great outdoor exercise.
Boyle Country Meats

Graphic: Sean O'Dowd
The Bazaar Coffee Shop & More

Graphic: Sean O'Dowd
Enhance Health & Beauty – Open Monday 10th May
Boyle GAA Club – Update
Boyle Golf Club
Read More >>
Covid, from Monday 10th May
St. Joseph's Parish Newsletter
"May Green" – if there is a named colour
Carer wanted for apartments
Dorothy Cogan wrote: "Hi Sean, wondering if you can help me please. I am looking for a lady to look after an apartment in Boyle if I rent it out as I am not living in Boyle any more …. meet people coming to stay, clean when they've gone, drop sheets to laundry, make up apartments again etc
• Can I advertise on your Realboyle page or maybe there is already someone in the town you know that already manages apartments."
Taylors Interiors – Jobs available in Boyle …
We have 2 Full-time positions available at the minute
(1) Paint and Hardware dept
(2) Interiors shop
Apply draper.cecil@gmail.com

Derreen Wood Bluebells
Roscommon Herald 4th May
40 Shades of Green – Lough Key Forest Park
€15 million fund to revitalise rural towns & villages – positive news for rural Ireland – Feighan
The Minister for Rural and Community Development, Heather Humphreys TD, has today (Monday, May 3rd) announced €15 million in funding to help revitalise rural towns and villages post Covid-19.
Local TD and Minister of State at the department of Health, Frank Feighan has warmly welcomed this particular scheme for the Sligo Leitrim constituency as the Town and Village Renewal Scheme is designed to breathe new life into rural communities – making them more attractive places to live, work, socialise and raise a family.
The Toon Team – vaccination shots
Maple Drive, 1st May 2021
Rhododendrons in bloom
New Season Bluebells in Lough Key Forest Park
Reopening plans and key dates for exiting lockdown
May 4th: all remaining construction returns
May 10th: intercounty travel ban lifted, hairdressers reopen as well as galleries and museums
• Grandparents who have been vaccinated will be able to meet indoors with grandchildren
• In-person religious services will resume
• For funerals and weddings, up to 50 mourners or guests are permitted at a service. For funerals, no related events should happen before or after.
May 17th – the remaining shops: The rest of non-essential retail is set to return on this date including many shops which have been closed for months.
Stock up on heating fuels …

Reprise
Boyle Courthouse
Business reopenings/closures
Apart from Covid, the normal thrust of business opening and closure issues, Boyle is similar to other towns. New businesses will open, while some will close for a variety of reasons: Maybe a trader gets a job with a different employer: A trader decides to move on to other things: Inheritance disputes dictate selling out etc etc.
Sketches – entrance to L. Key Forest Park from the N4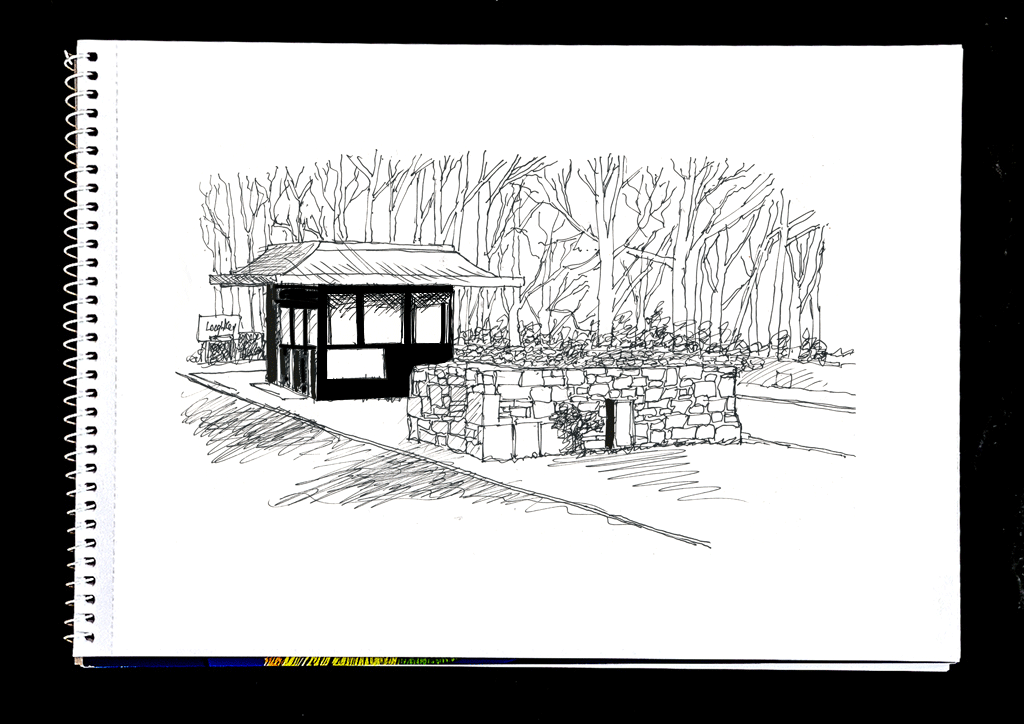 Does Sunshine vitamin D help put Covid in the shade?
Irish Examiner: "A group of medical professionals and academics is now calling on the government to recommend a daily dose of 20 to 25 micrograms (mgs) of vitamin D for every Irish adult as a preventative treatment for Covid-19. They also want the government to provide vitamin D supplementation to vulnerable groups such as frontline healthcare workers, those with pre-existing conditions like diabetes and high blood pressure and older adults, especially those living in nursing homes."
"Non Nationals" – a short story by John Mulligan
Listen to John Mulligan's beautifully written and spoken story of a generous Christmas charitable act to fellow, but less fortunate humans …
The Toon Team – Royal Hotel
Sketches
Sketching, for me, is a challenging, occasional activity I have enjoyed since I was a pre-teen. Now in this Covid Lockdown era I find myself "drawn-to-drawing" with a renewed energy. "High Art" … certainly not … !!
The Toon Team – Royal Hotel 2021
Alcoholics Anonymous
Just a gentle reminder –  "we would be delighted if you could put a small message on realboyle.com regarding our AA meeting. It takes place every Thursday at midday in St. Joseph's Hall.
Alcoholics Anonymous is an international fellowship of men and women who have had a drinking problem. Their stated purpose is to enable "members to stay sober and help other alcoholics achieve sobriety." It is nonprofessional, self-supporting, and apolitical."