Please Support Boyle Traders of the Day:
Drumderrig Nursing Home : The Moorings Restaurant : Philippa's Hair Design : The Bazaar Coffee Shop : Skirma's Sewing Room
St. Joseph's Parish Newsletter
Weather
TODAY – SATURDAY 6TH MARCH: A cool, dry day. There will be a good deal of cloud this morning but it will tend to break up at times with some sunny spells developing. Afternoon highs of 8 or 9 degrees Celsius.
Gerard Egan R.I.P.
The death has occurred of Gerard J Egan, Ballinameen, Boyle, Co. Roscommon formerly Ballytrasna, Boyle and Blanchardstown, Dublin 15 on the 5th of March 2021, peacefully, with his children by his side, in the exceptional care of the doctors and nurses in Sligo University Hospital. Over forty years service in Dublin City Council.
• Predeceased by his son John, deeply mourned by his loving children Lorraine, Patrick and Eithne, their mother Carmel, brothers Paddy and Vincent, sisters Mary and Elizabeth, nieces, nephews, relatives, neighbours and friends.
• R.I.P.
• Gerard's remains will leave Higgins and Sons Funeral Home, Ballinameen to arrive to St Joseph's Church, Boyle for 11am Mass on Monday the 8th of March, with burial afterwards in Rooske Cemetery, Dunboyne, Co. Meath.
• Funeral cortege will pass through Boyle Town at 10.50am via Shop Street (social distance and wearing of masks must be observed).
• In keeping with government guidelines regarding COVID -19 Gerard's funeral is restricted to family only with numbers in the church not exceeding 10 people. The Egan family very much appreciate your support at this time.
Further enquiries to Higgins and Sons Funeral Directors, Boyle and Ballinameen (086)2328291)
Daffodil …
Jenny O'Dowd Jessop
Though Melbourne is her home, Boyle artist Jenny O'Dowd Jessop maintains her interest in the west of Ireland, and Boyle in particular.
Check out
www.jennyjessop.com
to see her beautiful art …
"My compositions are often a simple design that captures a 'sense of place'. I carry my own native landscape from the west of Ireland inside my heart and merge it with the landscapes I have connected with in Australia. "
The 8 at 8 Friday
Here's what's making headlines this morning.
Read More >>
The Isles of Lough Key – Henry Fitzpatrick
The Isles of Lough Key – Henry Fitzpatrick
"The emerald green valley lay smiling,
'neath the shade of a beautiful moon,
As I wandered along to the hillside,
Which cradles the grey Rock Of Doon.
Café seating ahead of 'outdoor summer'
LOCAL AUTHORITIES ARE being encouraged by Tánaiste and business minister Leo Varadkar to "do what they can" for local restaurants and cafes by supporting outdoor seating where possible in towns and cities this summer.
• It's expected outdoor dining will return before pubs, cafés and restaurants can open more fully.
Biden 'Neanderthal thinking' Texas and Mississippi
President Joe Biden sharply criticized the Republican governors of Texas and Mississippi for rescinding their mask mandates despite public health experts' concerns about another potential surge in coronavirus cases. "I think it's a big mistake," the president said of the governors' decisions. Noting that the US will have enough vaccines for all American adults by the end of May, Biden said: "The last thing we need is Neanderthal thinking that in the meantime, everything's fine."
Boyle Camera Club Meeting Tuesday 9th March
This month's meeting will be held on Zoom – Zoom link is
https://overstock.zoom.us/j/98137987206?pwd=NDFIMTVIZFdJSXRZbTNrZUUrWnREZz09
Meeting ID: 981 3798 7206 / Passcode: 99968522
For instructions on how to join a zoom meeting, see https://support.zoom.us/hc/en-us/articles/201362193-Joining-a-Meeting
North Roscommon / Leitrim Region Waterways Master Plan
Waterways Ireland's new Tourism Masterplan has received an enthusiastic endorsement from Boyle native and local TD, Frank Feighan. The masterplan was launched this week by Minister Darragh O'Brien and contains several key ideas and proposals for the South Leitrim and North Roscommon region.
Let's Sympathise Safely
Deirdre Coleman (Community Policing Unit): "With numbers attending funerals restricted to a maximum of 10 people, it has become harder to express our sympathy without contributing to the spread of COVID-19. There are safer ways to sympathise so let's use them until the restrictions are lifted".
Roscommon Herald 2nd March
St. Vincent de Paul – Boyle Conference
St Joseph's Conference Boyle, wishes to sincerely thank all who donated to the St Vincent de Paul Annual Appeal. During these difficult times your generosity towards those who are less fortunate was very much appreciated and would have eased the burden of many families in difficulty. Thank you again.
Feighan to raise local bank closures with Finance Minister
Minister for State and local TD Frank Feighan has expressed his deep disappointment of the decision of Bank of Ireland to close several their branches in Sligo, Leitrim and South Donegal. Branches earmarked for closure include; Drumshanbo and Manorhamilton, Bundoran also Tubbercurry and Ballymote in Co Sligo.
It is difficult to understand the rationale behind some of the decisions particularly closing their two in the South Sligo area and the closure of Manorhamilton in the second largest town in Leitrim and again the closure of Bundoran which leaves people in that hinterland without Bank of Ireland services. "I am concerned that many SMEs and retail business in vast parts of my constituency will now not have personal relationships with their local bank which is worrying. I will speak personally to Minister Paschal Donohoe this week in Leinster House to outline the concerns of the many people who have contacted me throughout the constituency. I will seek some more information from the Minister on how it is proposed the Post Office network will administer the service on behalf of Bank of Ireland and I will also seek assurances that local Credit Unions will be encouraged and supported by the Central Bank to roll out more over the counter services for people especially in rural areas", concluded Minister Feighan.
One Year of Covid in Ireland
It is one year since the first case was announced here … well, February 29th
Bank of Ireland … new partnership with An Post
Bank of Ireland said it has taken a decision to close 103 branches in the Republic of Ireland and Northern Ireland, as the acceleration in digital banking has now reached a "tipping point".
• It has been reported that the list of branches to close will be announced at 10am this morning March 1st
The Toon Team – Dublin Riot, 27th February 2021
Boyle GAA Club update
Covid Vaccines:
Medical practices in Boyle are busy delivering vaccines to our people over 85. They will continue with other age groups etc as prescribed
Submitted photos, with full permission of those involved …
1/ Staff at Boyle Medical Clinic (Primary Care Centre) happily at work
2/ Quinn siblings after getting their vaccines
Covid Vaccines: Great news for Boyle …
From 8.30am this morning Covid vaccines are available for MORE THAN 100, pre-booked over 85-year-olds at Boyle Medical Centre facility operated by Doctors Barry Cosgrove and Kamal Javed
Irish Times poll: Strong support for reopening society as soon as possible
There is strong support for reopening society and the economy as soon as possible, according to the latest Irish Times/Ipsos MRBI opinion poll, with only a minority favouring a long lockdown until the virus has been eliminated.
• Today's findings also show there is widespread willingness to take the vaccine with 80 per cent saying they would take it tomorrow, and just 14 per cent saying they would not. Three percent said they had already received it.
Nursing home visits could return 'in weeks'
Independent.ie: Hope has risen for the return of nursing home visits within weeks after "robust" evidence emerged that vaccines are leading to a significant drop in infections and deaths among residents.
February 1947, "The Big Snow"
Richard McGee took this photo looking down from Taylor's Jewellers on Bridge Street
Christy Wynne was nine when the snow fell on his hometown of Boyle in Co Roscommon. "It began on the evening of Monday 24 February 1947; the greatest snowfall of the 20th century was about to hit my hometown of Boyle."
1947 was the year of the Big Snow, the coldest and harshest winter in living memory. Because the temperatures rarely rose above freezing point, the snows that had fallen across Ireland in January remained until the middle of March. Worse still, all subsequent snowfall in February and March simply piled on top.
Roscommon CoCo: Covid-19 Rates Waiver Appeal 2021
A three-month waiver will apply to eligible businesses and will take the form of a credit in lieu of rates
Abbey Haven Care Centre & Nursing Home Jerusalema fun dance
The Residents and Staff of Abbey Haven Care Centre & Nursing Home have been working on the Jerusalema Fun Dance over the past week and we all had great fun making it.
New Lantern Lights for Main Street
Main Street Regeneration works are continuing following the recent provision of new footpath paving stones on the south side of the street.
• Lantern-type lights are being installed today. The older lighting poles will be removed over the coming days
• The new lights are similar to those already in place around the Town Clock on the Crescent
The Toon Team
Restaurants unlikely to reopen until the middle of summer
Irish Independent: "The hospitality industry will likely not reopen until the middle of the summer, Taoiseach Micheál Martin has said this morning.
Mr Martin said that he did not foresee pubs or restaurants opening before the middle of the summer due to the slow pace the economy will reopen at due to concern around new variants of Covid-19."
Covid: No meeting outdoors or travel further than 5km until May
Irish Independent: "People will not be permitted to meet outdoors or travel further than 5km from their home until at least May under a new plan for Living with Covid-19 being considered by the Government.
The country is facing into at least 10 more weeks of lockdown with the health service still struggling to deal with the variant of Covid-19 which first emerged in Britain."
St. Joseph's Parish Newsletter
Sketches – entrance to L. Key Forest Park from the N4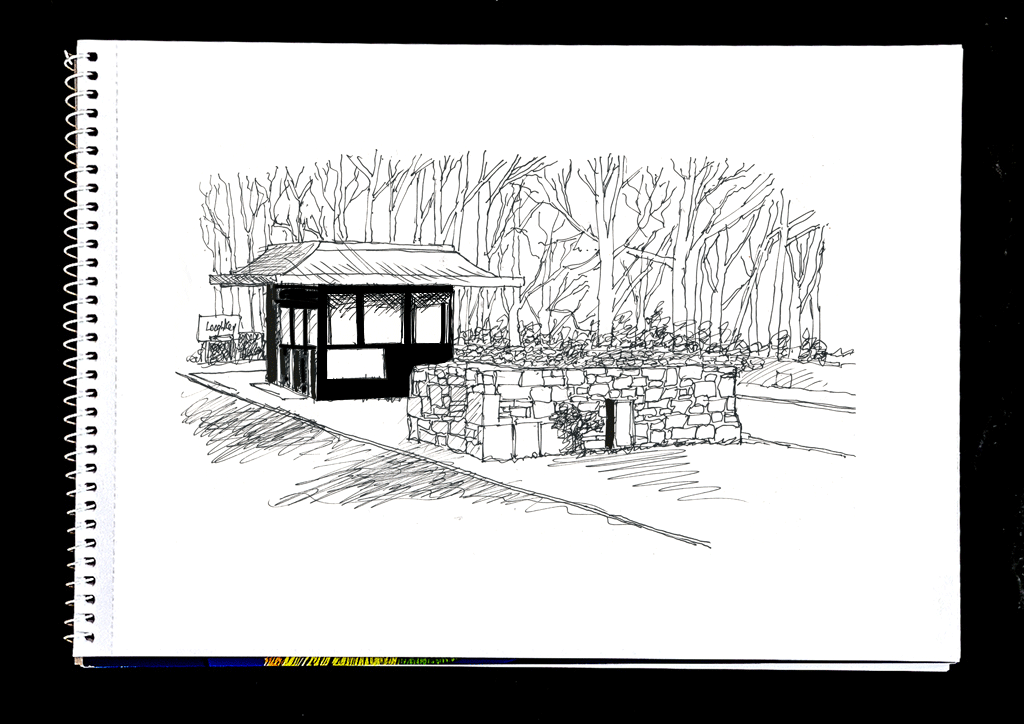 Does Sunshine vitamin D help put Covid in the shade?
Irish Examiner: "A group of medical professionals and academics is now calling on the government to recommend a daily dose of 20 to 25 micrograms (mgs) of vitamin D for every Irish adult as a preventative treatment for Covid-19. They also want the government to provide vitamin D supplementation to vulnerable groups such as frontline healthcare workers, those with pre-existing conditions like diabetes and high blood pressure and older adults, especially those living in nursing homes."
Roscommon Co Council to receive €345,200 to retrofit 13 LA Homes
Minister of State and local TD, Frank Feighan TD has warmly welcomed the announcement by the Minister for Housing, Local Government and Heritage, Darragh O'Brien TD, Minister of State with responsibility for Local Government and Planning, Peter Burke TD, and Minister of State for Heritage and Electoral Reform Malcolm Noonan of allocations and targets under the Energy Efficiency Retrofitting Programme for Social Housing
• Roscommon Co Council will receive €345,200 to retrofit 13 houses in their stock. The Programme for Government 2020 set challenging and ambitious targets over the next ten years aimed at Ireland's objective of reducing its carbon emissions by more than half. In response to this commitment the Energy Efficiency Retrofitting programme has been revised and enhanced for 2021, homes retrofitted under this programme will benefit householders in many ways, they will be warmer, easier to heat and more comfortable homes, it will enhance air quality in the home and for those currently using oil or gas they will see savings on energy bills.
National ban on smoky coal
Irish Times: The Government is to impose a State ban on the burning of smoky coal by home-owners and prepare strict new regulations on the burning of all other solid fuels, especially so-called "wet wood". The changes are being driven by increasing evidence of dangerous air pollution effects on people living in urban areas, especially from tiny particles known as PM2.5 arising from solid fuel burning in heating homes, as well as road traffic.
The Toon Team – Snowman
Pubs, hotels and restaurants set to stay shut for several more months
Pubs, restaurants, hotels and cafes are facing shutdown for several more months as Taoiseach Micheál Martin warned a "critical mass" of the population must be vaccinated first with further Government supports then needed to "reboot" the industry.
Full Level 5 until after Easter (April) but schools and construction likely to reopen
"Non Nationals" – a short story by John Mulligan
Listen to John Mulligan's beautifully written and spoken story of a generous Christmas charitable act to fellow, but less fortunate humans …
Feighan welcomes the decision of the Government to expand access to medical cards
Minister for State at the Department of Health and local Fine Gael TD Frank Feighan has welcomed the decision of the Government to expand access to medical cards, making them available to all those who are terminally ill and have a prognosis of up to 24 months.
Boyle Arts Festival 2021
"…we will be back in 2021 even bigger and better. The provisional dates for BAF 2021 are July 15th to 24th." (Quote from BAF website)
Boyle – Alberta, Canada
Boyle is a small town in Alberta, Canada, population 845. Notably, Boyle, Alberta, has three hotels.
In line with a current Polar Vortex bringing a freezing chill to Canada, the current temperature in Boyle, Alberta hovers around -30C
The Toon Team …
View More >>
Feighan Welcomes IT Sligo's Investment Plan
College gets green light from Planners
10,000 students by 2022
Strong Sligo Campus investment vital for Sligo region in merger plans to create Technical University
Boyle Parochial N.S.
Application form for admission for the 2021-2022 school year is available to download at
boyleparochial.ie
Alternatively, you may request an application form in writing from Boyle Parochial N.S., Knocknashee, Boyle.
The Toon Team – Royal Hotel
Plan Your Future – 2021
Know your rights: Claiming tax relief on utility bills when working from home
I'M WORKING FROM HOME BECAUSE OF COVID-19. CAN I CLAIM TAX BACK ON MY UTILITY BILLS?
If you are working from home (also known as e-working or remote working), you may be able to claim tax back on your broadband, heating and electricity bills.You qualify for the tax relief if your employer formally requested you to work from home and you:
Log onto a work computer remotely
Complete your duties from home
Work at home for substantial periods of time
This applies to part-time and full-time workers.
Sketches
Sketching, for me, is a challenging, occasional activity I have enjoyed since I was a pre-teen. Now in this Covid Lockdown era I find myself "drawn-to-drawing" with a renewed energy. "High Art" … certainly not … !!
Tony Conboy – "An Oblique View"
The Toon Team – Royal Hotel 2021
Viewed from the N4
Alcoholics Anonymous
Just a gentle reminder –  "we would be delighted if you could put a small message on realboyle.com regarding our AA meeting. It takes place every Thursday at midday in St. Joseph's Hall.
Alcoholics Anonymous is an international fellowship of men and women who have had a drinking problem. Their stated purpose is to enable "members to stay sober and help other alcoholics achieve sobriety." It is nonprofessional, self-supporting, and apolitical."